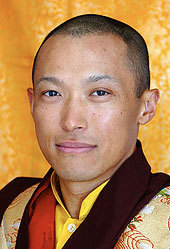 Date: Friday, April 26, 2013

Teacher : Sakyong Mipham Rinpoche
Price per person: $15.00
Recorded in Chicago, Illinois, USA

Chicago Shambhala Center and Shambhala Online present
Creating Enlightened Society
Keynote Address by Sakyong Mipham Rinpoche

Rockefeller Chapel, University of Chicago
Imagining Peace Conference
Recorded April 26, 2013 with opening music by Fulcrum Point.
$15 per person via Shambhala Online.

Can we envision a peaceful society?

Chicago's Imagining Peace Conference, featured teachings and workshops that explore living meaningfully in an increasingly hectic and interconnected world. The conference opned with a keynote talk from the Sakyong, called Creating Enlightened Society.

The Sakyong guided an inspiring contemplation on how we apply the teachings of Shambhala, which emphasize confidence in our inherent goodness, to address the challenging questions about the future of our society and to reflect on how we may achieve a peaceful society. Speaking from a point of view that is informed by Buddhism but is fundamentally non-sectarian, Sakyong Mipham offered wisdom from the Shambhala teachings on mind and society.
This talk is open to the public -- feel free to invite your friends!
The program underscores the context of the Sakyong's new book, The Shambhala Principle: Discovering Humanity's Hidden Treasure, which invites us to reflect on our basic goodness, and the inherent goodness of all society, and to go forward as courageous and compassionate warriors intent on creating an enlightened world.

Fulcrum Point New Music Project, Chicago's leader of diverse new music, opened the program with classical music ranging from Bach to contemporary that highlights the sensibilities of dignity, contemplation, and ceremonial nobility.

Join us, virtually, for what Acharya Adam Lobel describes as "a milestone in the history of our lineage. We will be taking a major step in the process of creating enlightened society by directly engaging a challenging and pressing societal issue: youth violence. For anyone curious about the meeting place of our profound practice lineage and social transformation, this event is not to be missed."