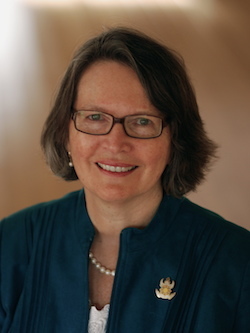 Date: Friday, April 15, 2016
Tuesday, May 31, 2016

Teachers : Susan Chapman & Greg Heffron
Price per person: $125.00
Patron Price: $150.00
A 5-week Interactive Course
Good communication is essential to any healthy relationship, whether it's between spouses, family members, friends, or co-workers. Mindfulness—the practice of nonjudgmental awareness—can help us communicate more effectively and meaningfully with others in our personal and professional lives.
In this recorded course, Acharya Susan Chapman, a psychotherapist, Buddhist practitioner, and senior teacher in the Shambhala tradition, explains how the practice of mindfulness awareness can change the way we speak and listen, enhance our relationships, and help us achieve our goals. She teams with Shambhala teacher Greg Heffron to guide participants through the material and engage in exercises and reflections.
You'll learn five key elements of mindful communication—silence, mirroring, encouraging, discerning, and responding—that make it possible for us to listen more deeply to others and to develop greater clarity and confidence about how to respond. Other topics include:
identifying your communication patterns and habits;

uncovering the hidden fears that often sabotage communication;

staying open in the midst of difficult conversations so that we can respond wisely and skillfully;

and learning how mindful communication can help us to become more truthful, compassionate, and flexible in our relationships.
This course is meant to be completed over five weeks. You'll have an eight-week window to accommodate any life disruptions.
An Invitation from Greg Heffron
This course is open to all. No previous experience with meditation is required. Class size is limited to ensure a satisfying learning experience.
About Our Courses
Our courses feature senior Shambhala teachers, an online community of participants, and facilitation by an experienced course leader. Over 6 to 8 weeks, course participants view recorded teachings, then gather in the online learning environment to discuss, contemplate and engage in exercises aimed at deepening their understanding.
When Does the Class Meet?
The course is asynchronous. You may view the recorded talks at your convenience. The recommended schedule is to view one talk each week and complete the associated readings and exercises in the module. There are 5 talks; the course is open for 8 weeks.
Please note that an important aspect of the course involves meeting with another course participant for dialogue. You can arrange live meetings via telephone, an online meeting forum such as Skype, or in person.

How Much Time Does it Take?
Most participants spend 2 to 3 hours per week on the course. The talks average 45 minutes in length. Allow yourself time to do the readings, meditation practices and other assignments. It's a good idea to schedule the time on your calendar as you would for a face-to-face class.
Registration Options

1) Regular Amount. The regular course rate of $125 applies 2 weeks prior to the start date.

2) Patron. The Patron rate of $150 supports our efforts to connect teachers and learners through online programs. In particular, it helps us offer the generosity policy to those in need.
4) Generosity Policy. We want to make the teachings available to all and will work with you to ensure your participation. Click on the Request a Discount link, just above the Register Now button, to get a discount code to use at checkout.