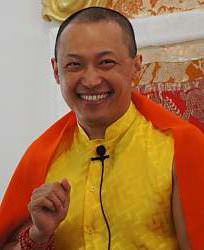 Date: Saturday, July 15, 2017
Friday, August 31, 2018

Teachers : Sakyong Mipham Rinpoche & Acharya Dale Asrael & Noel McLellan
Price for Centers: $350
Price for Groups: $200
Information is for Center and Group Registration only.

This option is for you if you have a local facilitator(s) and plan to hold weekly or weekend classes at your centre. Facilitators will show the talks and guide participants through discussions, dyads and other activities. The start and end dates are up to the Center. Individuals will register and pay through your Center, and you will set them as participants. You will register with Shambhala Online using your Center or Group's Shambhala account. (Click here for information on creating an account.)
Course Fee: $350 for Centers; $200 for Groups. (See bottom of page for 25% exchange rate discount coupon codes.)

NOTE: This fee covers your subscription through December 31, 2018.
Introduction to Shambhala Meditation

In this recorded course, Sakyong Mipham Rinpoche will present the essence of awareness through the three gestures of Shambhala Meditation. The entire vision of Shambhala can be experienced though this simple yet profound practice.
Shambhala Meditation practice opens us to our own wisdom, tenderness and bravery, and is a powerful antidote to the aggression and suffering we see all around us. The Sakyong, along with Acharya Dale Asrael and Acharya Noel McLellan, will guide us as we explore the depth of our own humanity; the basic goodness that is at the root of all of our experience.
Shambhala Meditation is both intimate and profound; it teaches us to embody our inherent wisdom and compassion, and empowers us to discover the basic goodness of the the world with an open heart. The course includes recorded talks, exercises and discussion prompts.
This course is open to all!

About the Teachers
Sakyong Mipham Rinpoche. The Sakyong, literally translated as "earth protector," is a dharma king and lineage holder of the Shambhala lineage, guiding thousands of students around the world in the path of meditation.
The Sakyong's teachings show us how to use everyday life as a means to ripen our spiritual potential. We practice turning the mind toward others as a discipline that creates confidence and compassion — the ability to attain success that occurs from acting virtuously.
Acharya Dale Asrael
Acharya Asrael has taught as Core Faculty at Naropa University since 1992, in the M.A. Buddhist Studies, Contemplative Education, and Counseling programs, and is an Upadhyaya (Buddhist minister). She leads meditation retreats, dathuns, Sutrayana Seminaries, Ngondro Instructor trainings, and other programs internationally. In March of 2011, Sakyong Mipham Rinpoche appointed Dale the Dean of Meditation Instructors, asking her to be responsible for the compassionate activity of meditation instruction in the Shambhala mandala. This includes the training, supervision, development, and support for the actual meditation instruction path itself.
Acharya Noel McLellan
is a second-generation Shambhala practitioner, who was raised in the culture that was emerging around Chögyam Trungpa Rinpoche and his students.
Noel lives in Halifax, Nova Scotia with his wife Marguerite Drescher and their two ferocious young children, Gabriel and Esmé. He teaches at the Shambhala School, helping to develop a transformative approach to education. He oversees training for young Shambhala teachers and leaders in social transformation, and is a mentor to the Ziji Collective which is dedicated to exploring the confluence of contemporary society and Shambhala principles. Noel's writings on education, culture and Shambhala are available at broken leaf.
How the Course Works

The course leader or coordinator registers on behalf of the group with your Center or Group Shambhala account. (Follow these

instructions for creating an account

.)


Individuals generally register for the course with your Center or Group.

Participants seeking access to course materials should contact the course leader/coordinator.
Most Centers use the online resources primarily for the recorded talks, and will convene weekly classes that may include:
Registering individual participants;

Viewing the talk;

Using dyads to explore individuals' understanding;

Engaging in discussion about the topics;

Confirming participants so that their database record reflects completion of the course.
Your program coordinator/course leader will follow the guidelines and manuals offered by the Office of Practice and Education. Please note that the Center or Group is responsible for participants. For those who miss a class, you may share the Center's login info with a participant (if you choose to do that), arrange for a repeat showing, or allow an excused absence. Shambhala Online will not provide access to the materials for individual use.
Questions or concerns? Please write to [email protected].
Non-USA Centers & Groups, please use one of these coupon codes for a 25% exchange rate discount:
CENTERS - OCGLB7 / GROUPS - NXVJBQ