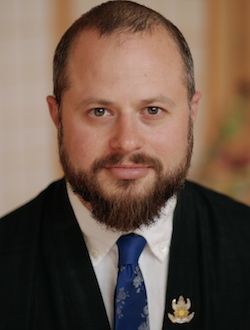 Date: Monday, January 1, 2018

Teacher : Adam Lobel
Price for Centers: $300
Price for Groups: $200
Information is for Center and Group Registration only.

This option is for you if you have a local facilitator(s) and plan to hold weekly or weekend classes at your Center. Facilitators will show the talks and guide participants through discussions, dyads and other activities. The start and end dates are up to the Center. Individuals will register and pay through your Center, and you will set them as participants. You will register with Shambhala Online using your Center or Group's Shambhala account. (Click here for information on creating an account.)
Course Fee: $300 for Centers; $200 for Groups.

NOTE: There is now a "one-time" fee for this course. It no longer needs to be purchased each year!

A 6-week interactive course

In this 6-session recorded course, Acharya Adam Lobel leads participants on a journey of contemplative inquiry focused on the timeless question, "Who am I?" Course participants will:
Learn Buddhist teachings on how our sense of self arises moment by moment to provide a reference point.

Use meditation practice as a way to contact and express the mind of basic goodness.

Join a community for discussion, contemplation and dialogue exercises.
About the teacher
Kalapa Acharya Adam Lobel was drawn to the path of meditation when he was 16 years old, in response to the social and ecological injustices he saw. He soon encountered the writings and vision of Tibetan meditation master, Chogyam Trungpa Rinpoche. Inspired by the path of warriorship and the vision of enlightened society, he pursued meditation retreats and training in the Shambhala Buddhist path. Adam connected with Sakyong Mipham Rinpoche, head of the Shambhala lineage, while on retreat in Parphing, Nepal in 1997. He was co-editor of the Sakyong's book Turning the Mind into an Ally. Adam was named an Acharya in 2004 and completed a Masters of Divinity at Harvard Divinity School. In 2008, the Sakyong named Acharya Lobel the Kalapa Acharya. The Kalapa Acharya presides over the Pillar of Practice and Education within Shambhala. Acharya Lobel is particularly responsible for curriculum and path development as well as training Shambhala teachers. Adam is involved with various social and ecological transformation initiatives both within and beyond Shambhala. Adam is a doctoral candidate at Harvard University and lives in Pittsburgh, Pennsylvania with his wife and two sons.
How the Course Works

The course leader or coordinator registers on behalf of the group with your Center or Group Shambhala account. (Follow these

instructions for creating an account

.)


Individuals generally register for the course with your Center or Group.

Participants seeking access to course materials should contact the course leader/coordinator.
Most Centers use the Way of Shambhala online resources primarily for the recorded talks, and will convene weekly classes that include:
Registering individual participants;

Viewing the talk;

Using dyads to explore individuals' understanding;

Engaging in discussion about the topics;

Confirming participants so that their practice record reflects completion of the course.
Your program coordinator/course leader will follow the guidelines and manuals offered by the Office of Practice and Education. Please note that the Center or Group is responsible for participants. For those who miss a class, you may arrange for a repeat showing, or allow an excused absence. Shambhala Online will not provide access to the materials for individual use.
Questions or concerns? Contact Jackie Roberts at [email protected], Shambhala Online Liaison for Centers and Groups.
Course leaders and facilitators: The companion manual is required to run this course. Please send a request to [email protected] with the subject as BG1 Companion Manual Request. Thank you.