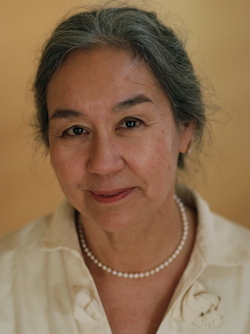 Date: Monday, January 1, 2018

Teacher : Acharya Arawana Hayashi
Price for Centers: $300
Price for Groups: $200
Information is for Center and Group Registration only.

This option is for you if you have a local facilitator(s) and plan to hold weekly or weekend classes at your Center. Facilitators will show the talks and guide participants through discussions, dyads and other activities. The start and end dates are up to the Center. Individuals will register and pay through your Center, and you will set them as participants. You will register with Shambhala Online using your Center or Group's Shambhala account. (Click here for information on creating an account.)

Course Fee: $300 for Centers; $200 for Groups.
NOTE: There is now a "one-time" fee for this course. It not longer needs to be purchased each year!
A 6-week Interactive Course

This six-session recorded course explores our relationships with others, an aspiration to help our world, and specific aspects of social transformation. We look at a Shambhala understanding of society, and what enlightened society may be. Is society something that is ultimately confused, or is there goodness in human society? The course focuses on transforming four aspects of society: relations with family (household), professional life, entertainment, and economy. We learn the traditional mahayana practice of "sending and taking" (tonglen).
Reading list for this course:
Shambhala, Sacred Path of the Warrior

,

Chogyam Trungpa, Shambhala Publications 2010

The Shambhala Principle

, Sakyong Mipham Rinpoche, Harmony, 2013

Work, Sex, and Money, Real Life on the Path of Mindfulness

, Chogyam Trungpa Rinpoche, Shambhala Publications 2011
Open to all. (Strongly recommended preparation: Basic Goodness 1 - The Basic Goodness of Being Human; and Meditation in Everyday Life, or Contentment in Everyday Life, or Shambhala Training Level I.)
About the Teacher
Acharya Arawana Hayashi joined the Naropa Institute (now University) in 1976 as Co-Director of the Dance Program with Barbara Dilley, and began her study of bugaku, Japanese Court Dance, the following year. In 1981 she founded and directed the Jo Ha Kyu Performance Group and directed the company for 19 years.
Since 2002 she has taught meditation and creative process at ALIA (formerly the Shambhala Institute for Authentic Leadership). She is on the faculty of the Mukpo Institute at Karme Choling and the Authentic Leadership Program at Naropa University. Since 2004 she has been teaching innovative leadership workshops with social researcher, Otto Scharmer, and is a founding member of the Presencing Institute, currently creating a Social Presencing Theater, which applies Shambhala art to organizational and social change projects.
Acharya Hayashi has taught Shambhala Training levels since 1982, and has co-directed five Warrior Assemblies. She has been a teacher in residence at Karme Choling and since 1994 has been working with the Shambhala Art Program and chairs the Shambhala Arts Council. She was appointed acharya by Sakyong Mipham in 2005.
How the Course Works

The course leader or coordinator registers on behalf of the group with your Center or Group Shambhala account. (Follow these

instructions for creating an account

.)


Individuals generally register for the course with your Center or Group.

Participants seeking access to course materials should contact the course leader/coordinator.
Most centers use the Way of Shambhala online resources primarily for the recorded talks, and will convene weekly classes that include:
Registering individual participants;

Viewing the talk;

Using dyads to explore individuals' understanding;

Engaging in discussion about the topics;

Confirming participants so that their practice record reflects completion of the course.
Your program coordinator/course leader will follow the guidelines and manuals offered by the Office of Practice and Education. Please note that the Center or Group is responsible for participants. For those who miss a class, you may arrange for a repeat showing, or allow an excused absence. Shambhala Online will not provide access to the materials for individual use.
Questions or concerns? Contact Jackie Roberts at [email protected], Shambhala Online Liaison for Centers and Groups.