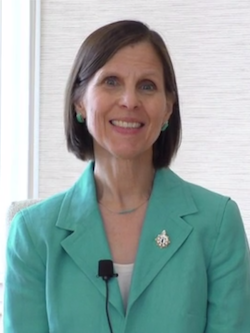 Date: Monday, January 1, 2018

Teacher : Shastri Janet Solyntjes
Price for Centers: $300
Price for Groups: $200
This Information is for Center and Group registration only.
This option is for you if you have a local facilitator(s) and plan to hold weekly or weekend classes at your Center. Facilitators will show the talks and guide participants through discussions, dyads and other activities. The start and end dates are up to the Center. Individuals will register and pay through your Center, and you will set them as participants. You will register with Shambhala Online using your Center or Group's Shambhala account. (Create an account here if your Center or Group doesn't already have one).
Course Fee: $300 for Centers; $200 for Groups.
NOTE: There is now a "one-time" fee for this course. It no longer needs to be purchased each year!
A 5-week Interactive Course
This course provides introductory tools and teachings for working with meditation in everyday life. With simple instructions and support, mindfulness meditation practice can become part of one's life, revealing our innate stability, strength and clarity.
This first course in the Way of Shambhala curriculum, led by Shastri Janet Solyntjes will provide an opportunity to learn and deepen one's understanding of meditation, with practical suggestions for establishing a sitting practice in the midst of our speedy lives.
She will present the practice of peaceful abiding meditation and guidance on how to establish a meditation practice. The ways that meditation practice can improve the quality of daily life are discussed, along with the obstacles. By deepening our experience and understanding of ourselves through the practice of meditation, we more fully become who we already are. In addition, participants will receive:
Meditation posture instruction

Shamatha yoga instruction

Downloadable guided meditation.
This course is open to all. No previous experience with meditation is required.
About the Teacher
Shastri Janet Solyntjes has been a member of the Shambhala community since 1984 and teaches at Shambhala centers in the US, Australia, and New Zealand. As an Adjunct Professor at Naropa University she has taught meditation courses for both students and staff, and is co-founder of the Boulder-based Center for Courageous Living.
How the Course Works
The course leader or coordinator registers on behalf of the group with your Center or Group Shambhala account. (Follow these

instructions for creating an account

.)


Individuals generally register for the course with your Center or Group.

Participants seeking access to course materials should contact the course leader/coordinator.
Most centres use the Way of Shambhala online resources primarily for the recorded talks, and will convene weekly classes that include:
Registering individual participants;

Viewing the talk;

Using dyads to explore individuals' understanding;

Engaging in discussion about the topics;

Confirming participants so that their practice record reflects completion of the course.
The program coordinator/course leader has the option of using the discussion topics, dialogue guidelines and other exercises and assignments found in the courseware. They are also welcome to follow the guidelines and manuals offered by the Office of Practice and Education. Please note that the Center or Group is responsible for participants. For those who miss a class, you may arrange for a repeat showing, or allow an excused absence. Shambhala Online will not provide access to the materials for individual use.

Questions or concerns? Contact Jackie Roberts at

[email protected]

, Shambhala Online Liaison for Centers and Groups.