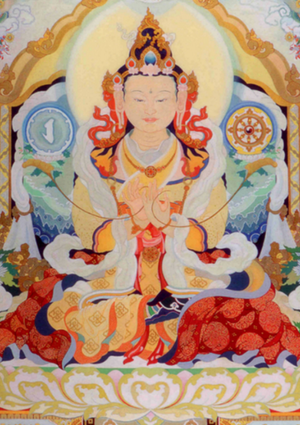 Date: Thursday, March 15, 2018
Monday, December 31, 2018

Teacher : Emily Bower
Price per person: $216
Patron Price: $275
Scroll down for English translation.

Curso de estudios avanzados sobre el ngöndro del Rigden primordial
Fecha: El 15 de marzo, 2018 hasta el 30 de dezembro 31, 2018
Profesora: La acharya Emily Bower
Precio normal: $216
Patrocinador: $275
Este curso avanzado para practicantes del ngöndro del Rigden primordial guía a los participante por las cuatro prácticas de ngöndro con enseñanzas sobre la visión del Sákyong, de la acharya Bower y de otros profesores veteranos de Shambhala.
Este curso ofrece instrucciones de la acharya Emily Bower, charlas seleccionadas de varios profesores veteranos sobre ngöndro, tareas de lectura, un foro de conversación y encuentros en directos. Se podrán organizar otros encuentros en Zoom a través del facilitador del curso. Después del mes de dezembro el curso sigue disponible aunque resulte menos interactivo.
Requisitos
Exclusivo para estudiantes vajrayana de Shambhala que practiquen el ngöndro del Rigden primordial.
Temas de las clases:
La visión del ngöndro del Rigden Primordial

Las cuatro dignidades

Postraciones

El lhásang último: Drala Vajrasattva

El gran mandhala de dralas

Gurú yoga del Rigden Sákyong
Sobre la profesora
La acharya Emily Bower comenzó asistiendo a programas de Shambhala en 1987 en Berkeley (California, EE.UU.). Ha sido estudiante de Sákyong Mipham Rimpoché desde que le conoció en 1991. Ha trabajado para Shambhala Publications durante muchos años y también ha formado parte del equipo editorial de Sákyong Mipham. Es una editora y gestora de proyectos en un equipo de traducción del 84000 Project, y bloguera y revisora de libros budistas para Dharma Spring. Fue nombrada acharya en 2004 y Heralda de Shambhala en 2014. Además de viajar y enseñar en el mándala de Shambhala sigue trabajando como editora de libros y consultora de las compañías editoriales. Reside actualmente en Los Angeles.
Sobre los estudios avanzados
Los cursos de estudios avanzados de Shambhala Online están pensados para ayudar a los practicantes vajrayana a desarrollar su práctica y profundizar su comprensión entre programas importantes. Los participantes en los estudios avanzados se involucran en una experiencia potente de aprendizaje a través de estudios rigurosos, de unirse a sus compañeros y de mezclar las enseñanzas con la vida diaria.
En todos los cursos hay un profesor veterano de Shambhala, interacción con una comunidad en internet y asesoramiento de un responsable veterano de cursos. Los participantes ven grabaciones o enseñanzas en directo y, después, se reúnen en un entorno docente directo, sea presencial o en internet, para conversar, contemplar y realizar ejercicios con el objetivo de profundizar la comprensión.
Los participantes trabajan juntos para revelar su sabiduría inherente. Involucrarse en el curso proporciona enseñanzas en la vida diaria, apoyando así la visión de crear la sociedad iluminada.
¿Cuándo se reúne la clase?
El curso no está sincronizado con nada. Cada cual puede ver las charlas grabadas cuando le convenga. Se decidirán las fechas y horas de reunión con la opinión de los participantes.
¿Cuánto tiempo se necesita?
Los participantes suelen invertir de 3 a 4 semanas para terminar un módulo. Tome su tiempo para las lecturas, las prácticas y otras tareas. Es buena idea organizar un día/hora en el calendario como haría para una clase presencial.
Opciones de inscripción
Precio normal. El precio normal es 216 dólares estadounidenses por persona.
Patrocinador. El patrocinador paga 275 dólares estadounidenses para apoyar el esfuerzo de conectar a profesores y alumnos a través de los programas en internet y, concretamente, nos ayuda a ofrecer la política de generosidad a quienes la necesitan.
Política de generosidad. Para solicitar un descuento del 25% o 50% pinche en el enlace Request a Discount a continuación para recibir un código de descuento que podrá usar en el paso final de la inscripción. Para otros descuentos o becas, le rogamos que escriba a [email protected].
* * * * *
Primordial Rigden Ngondro Advanced Study Course

This advanced study course for Primordial Rigden Ngöndro practitioners guides participants through the four ngöndro practices with teachings on the view by the Sakyong, Acharya Bower and other senior Shambhala teachers.
The course includes guidance from Acharya Emily Bower, selected talks by various senior teachers on ngöndro, reading assignments, a discussion forum and live meetings. Additional meetings may be scheduled on Zoom through your course facilitator. After December the course remains available to you but will be less interactive.

Prerequisites
Limited to Shambhala Vajrayana students practicing the Primordial Rigden Ngöndro.
Class topics:
The View of Primordial Rigden Ngöndro

The Four Dignities

Prostrations

The Ultimate Lhasang: Drala Vajrasattva

Great Mandala of Dralas

Guru Yoga of the Rigden Sakyong
About the teacher
Acharya Emily Bower started attending Shambhala programs in 1987, in Berkeley, CA. She has been a student of Sakyong Mipham Rinpoche since she met him in 1991. She has worked for Shambhala Publications for many years, and has also served on the editorial staff for Sakyong Mipham. She is an editor and project manager on a translation team for the 84000 Project, and a blogger and reviewer of Buddhist books for Dharma Spring. She was appointed an acharya in 2004, and a Shambhala Herald in 2014. In addition to traveling and teaching in the Shambhala mandala, she continues to work as a book editor and publishing consultant. She currently resides in Los Angeles.

About Advanced Studies
The Shambhala Online Advanced Studies courses are designed to support vajrayana practitioners as they develop their practice and deepen their understanding between major programs. Through rigorous study, relating with peers, and mixing the teachings with daily life, Advanced Studies participants engage in a powerful learning experience.
Each course features a senior Shambhala teacher, interaction with an online community, and facilitation by an experienced course leader. Participants view recorded or live teachings, then gather in the online learning environment to discuss, contemplate and engage in exercises aimed at deepening their understanding.
Participants work together to reveal their inherent wisdom. Engaging in the course brings the teachings into daily life, supporting the vision of creating enlightened society.
When Does the Class Meet?
The course is asynchronous. You may view the recorded talks at your convenience.
How Much Time Does it Take?
Participants generally take 3-4 weeks to complete each module. Allow yourself time to do the readings, practices and other assignments. It's a good idea to schedule the time on your calendar as you would for a face-to-face class.

Registration Options
Regular Amount. The regular course rate is $216 per person.

Patron. The Patron rate of $275 supports our efforts to connect teachers and learners through online programs. In particular, it helps us offer the generosity policy to those in need.
Generosity Policy. To request a 25% or 50% discount, click on the Request a Discount link below to receive a discount code to use at checkout. For a further discount or scholarship, write to [email protected].