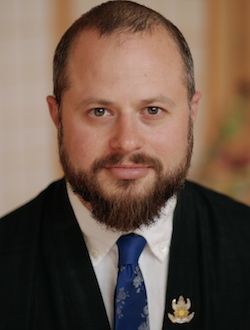 Price per person: $108
Patron Price: $149
Please note: This "open enrollment" course may be completed on your own schedule. The discussion area is less active but is still open. There is also no facilitator for the course. The price is reduced from $149 to $108. We recommend that you keep a journal about the class and meet with your Meditation Instructor to discuss the contemplation topics. Questions? Contact regis[email protected].
A 6-week Course
Acharya Lobel leads participants on a journey of contemplative inquiry focused on the timeless question, "Who am I?" Course participants will learn:
Buddhist teachings on how our sense of self arises moment by moment to provide a reference point.

Meditation practice is used as a way to contact and express the mind of basic goodness.

Join a virtual community for discussion, contemplation and dialogue exercises.
This course is open to all. No previous experience with meditation is required.
About the Teacher
Kalapa Acharya Adam Lobel was drawn to the path of meditation when he was 16 years old, in response to the social and ecological injustices he saw. He soon encountered the writings and vision of Tibetan meditation master, Chogyam Trungpa Rinpoche. Inspired by the path of warriorship and the vision of enlightened society, he pursued meditation retreats and training in the Shambhala Buddhist path. Adam connected with Sakyong Mipham Rinpoche, head of the Shambhala lineage, while on retreat in Parphing, Nepal in 1997. He was co-editor of the Sakyong's book Turning the Mind into an Ally. Adam was named an Acharya in 2004 and completed a Masters of Divinity at Harvard Divinity School. In 2008, the Sakyong named Acharya Lobel the Kalapa Acharya. The Kalapa Acharya presides over the Pillar of Practice and Education within Shambhala. Acharya Lobel is particularly responsible for curriculum and path development as well as training Shambhala teachers. Adam is involved with various social and ecological transformation initiatives both within and beyond Shambhala. Adam is a doctoral candidate at Harvard University and lives in Pittsburgh, Pennsylvania with his wife and two sons.
About Our Courses
The Way of Shambhala courses are designed for those who don't live near a Shambhala Center, or who need a particular course in order to continue on the path. Each course in the series features a senior Shambhala teacher, an online community of participants, and facilitation by an experienced course leader. Course participants view recorded teachings, then contemplate and engage in exercises aimed at deepening their understanding.
When Does the Class Meet?
The course is asynchronous. You may view the recorded talks at your convenience. The recommended schedule is to view one talk each week and complete the associated readings and exercises in the module. There are 6 talks.

How Much Time Does it Take?
Most participants spend 1 to 2 hours per week on the course. The talks average 45 minutes in length. Allow yourself time to do the readings, meditation practices and other assignments. It's a good idea to schedule the time on your calendar as you would for a face-to-face class.

Registration Options

Regular Amount. The regular course rate is $108

Patron. The Patron rate of $149 supports our efforts to connect teachers and learners through online programs. In particular, it helps us offer the generosity policy to those in need.
Generosity Policy. Click on the Request a Discount link below before registering to receive a discount code to use at checkout. For a further discount or scholarship, write to [email protected].

Centers and Groups, please register here.
Meditation Instructors and Shambhala Guides, please see Shambhala Educator Resources to register for a Study/Review version of this course.