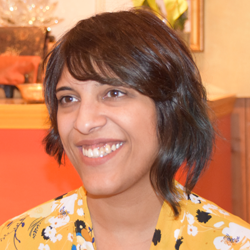 Date: Wednesday, February 20, 2019 (19:00 -20:15)

Teacher : Aarti Tejuja
Price per person: $10
Patron Price: $20
Price for Centers: $60
Price for Groups: $40
Shambhala Online Weekly Dharma Gathering
"Stepping Out and Stepping In: The Importance of Meditators Becoming Activists and Activists Becoming Meditators"
with Aarti Tejuja
Hosted by Adriana DiFazio
All are welcome to join these weekly events, which include guided meditation and a talk and discussion with a featured guest teacher.
On February 20, we are grateful to have Aarti Tejuja kick off the series with a talk titled "Stepping Out and Stepping In: The Importance of Meditators Becoming Activists and Activists Becoming Meditators." A much needed conversation as we become more socially-engaged meditators in the world.
This tradition began at Shambhala New York in the early 1990s as a way to welcome the greater community into the Shambhala center. Today, many Shambhala centers around the world continue to host these events for members and friends of the Shambhala community. We hope that these events will allow us to collectively examine the issues facing our sangha and larger society by spotlighting new and fresh voices across our mandala.
The Shambhala Online Weekly Dharma Gathering series is hosted and curated by Dr. Shanté Paradigm Smalls. Dr. Smalls is a teacher in the Shambhala lineage and student of Sakyong Mipham Rinpoche. They are assistant professor of Black Culture and Literature, as well as as a performer and performance studies scholar. Dr. Smalls has published work on hip hop, film, queer performance, and a host of other scholarly topics. Connect with Shanté on social media: Facebook, Twitter, Instagram
Join live or watch later. When you register for a talk, you'll receive:
A link to view the event live

Access to view the archived video after the live event concludes

The cost is $10 for the General Public and $20 for Patrons who wish to pay-it-forward. Cost for Centers is $60, and $40 for Groups.
Because we are committed to making these programs accessible to all, there is also a 25% discount option that one can select for each talk (Click on the "Request a discount" link below). To request a further discount or scholarship, write to [email protected].
---
Schedule
7:00pm ET - Welcome & guided meditation
7:25pm ET - Dharma talk
7:55pm ET - Q&A with teacher
8:10pm ET - Announcements
---
About the Teacher
Aarti Tejuja is the former Director of the Social Engagement for Shambhala International where she worked with Shambhala Centers globally to help shift the community's current insular culture to a more outward and engaged approach.
Aarti currently runs her own organization, Spiritual Activism, which offers new tools to activists who struggle with the weight of emotions they face when fighting for a more balanced world. She also works with spiritual communities and individuals with strong spiritual practices who want help stepping out and engaging the world with conscious awareness.
Aarti has served in a variety of roles with a diverse array of groups. She has managed youth programs, served on the boards of non-profits Restored Hope, who advocate for underserved women & children, as well as Arrow Collective, and participated in interfaith dialogues. In 2015, Pope Francis invited her to participate in a Buddhist Catholic dialogue in Rome. She has successfully co-led 2 youth summits and 3 large mindfulness conferences created collaboratively with non-profits and interfaith groups.
Aarti lives with her husband Matt and kitties Steve & Mochi.