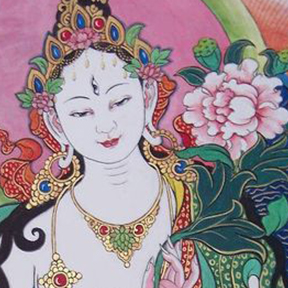 Date: Thursday, August 15, 2019
Thursday, December 31, 2020

Teacher : Acharya Judith Simmer-Brown
Price for Centers: $399
Price for Groups: $249
Information is for Center and Group Registration only.

This option is for you if you have a local facilitator(s) and plan to hold weekly or weekend classes at your Center. Facilitators will show the talks and guide participants through discussions, dyads and other activities. The start and end dates are up to the Center. Individuals will register and pay through your Center, and you will set them as participants. You will register with Shambhala Online using your Center or Group's Shambhala account. (Click here for information on creating an account.)

Course Fee: $399 for Centers; $249 for Groups.
NOTE: You will have indefinite access to this course!
White Tara: A Soothing Practice for Difficult Times
This five-week recorded course introduces the short daily practice of White Tara, one of the most famous bodhisattvas of compassion in Tibetan Buddhism. Emanated from the tears of the compassionate Avalokiteshvara, peaceful White Tara is said to witness the suffering of beings through her seven eyes, and she soothes their fear, calms their anguish, heals their suffering—both individual and communal—and extends their lives. This is a lineage practice particularly relied upon in times of domestic and community turmoil and disharmony, and when personal or family health is threatened.
White Tara practices have long been popular in Kagyu and Nyingma communities; this particular short practice was composed years ago by Sakyong Mipham to soothe illness, disharmony, and suffering in the Shambhala community.
The lung (reading transmission) will be provided, and the course will be comprised of practice sessions and talks on compassion practice and the tradition of White Tara.
Prerequisite: This course is open to practitioners who have a grounding in mindfulness meditation (at least one year) and who are ready to commit to a compassion practice.
About the Teacher
Acharya Judith Simmer-Brown, Ph.D., is Distinguished Professor of Contemplative and Religious Studies at Naropa University in Boulder, Colorado, where she has taught since 1978. As Buddhist practitioner since the early 1970's, she became a student of Chogyam Trungpa Rinpoche in 1974, and was empowered as an acharya (senior teacher) by Sakyong Mipham Rinpoche in 2000. Her teaching specialties are meditation practice, Shambhala teachings, Buddhist philosophy, tantric Buddhism, and contemplative higher education. Her book, Dakini's Warm Breath (Shambhala 2001), explores the feminine principle as it reveals itself in meditation practice and everyday life for women and men. She has also edited Meditation and the Classroom: Contemplative Pedagogy for Religious Studies (SUNY 2011). She and her husband, Richard, have two adult children and three grandchildren.
Program Details
This course is comprised of talks recorded at Shambhala Mountain Center's White Tara program in April, 2019. It also includes the lung (reading transmission) for the practice as well as additional talks and contemplations. Students who have taken the Refuge Vow may order the text from Kalapa Publications. The course is asynchronous. Recorded talks may be viewed at your convenience.
*******************
NOTE: Fees are listed in US dollars. Request a discount below before registering, to allow for a currency exchange rate or other discount. To request a further discount, write to [email protected]
Click here for our Refund Policy.
Questions? Write to [email protected].