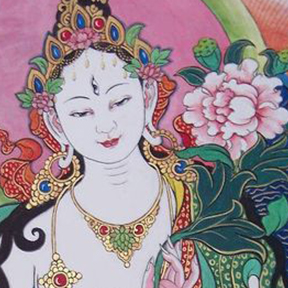 Date: Sunday, March 22, 2020

Teacher : Acharya Judith Simmer-brown
Price per person: $10
Patron Price: $20
Price for Centers: $50
Price for Groups: $40
PLEASE NOTE: Registration for the March 22 session is now closed.
To register for March 29, see this link.
To register for April 5, click here.

White Tara Practice Session - Sunday, March 22, 2020
At the following times: 10:00am Pacific / 11:00am Mountain / 12:00pm Central / 1:00pm Eastern / 2:00pm Atlantic / 17:00 UK / 18:00 Central Europe

In the face of the worldwide pandemic of COVID19, please join us for the healing, soothing practice of White Tara. Emanated from the tear s of the compassionate Avalokiteshvara, peaceful White Tara is said to witness the suffering of beings through her seven eyes, and she soothes their fear, calms their anguish, heals their suffering, restores their health—both individual and communal—and extends their lives. This is a lineage practice particularly relied upon in times of domestic and community turmoil and disharmony, or in the midst of attacks on health and longevity.
We will do the short daily practice of White Tara composed by the Sakyong. This practice is open to any practitioner who has taken refuge in a Buddhist lineage. The lung will be provided at the beginning of the session, and the text will be made visible on the site for those new to White Tara practice.
Prerequisite: Group practice is open to all. To practice on your own, or to purchase the text, you need to have received the lung and have taken the Refuge Vow.
About the Teacher
Acharya Judith Simmer-Brown, Ph.D., is Distinguished Professor of Contemplative and Religious Studies at Naropa University in Boulder, Colorado, where she has taught since 1978. She is also a senior Shambhala teacher, as well as the author of Dakini's Warm Breath: The Feminine Principle in Tibetan Buddhism.
Registration Options
Individuals: $10

.

Patrons: The Patron rate of $20 supports our efforts to connect teachers and learners through online programs. In particular, it helps us offer the generosity policy to those in need
Centers: $50. Groups:

$40.
* * * * *

Generosity Policy. We want to make the teachings available to all and will work with you to ensure your participation. Log in and click on the Request a Discount link below before registering to receive a coupon code to use at checkout. Please don't hesitate to request a further discount or scholarship, if needed, by writing to [email protected].

Click here for our Refund Policy.
Shambhala Online is self-supporting and does not rely on monthly donations.