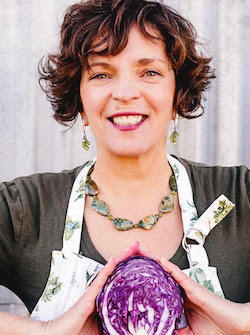 Teacher : Marcella Friel
Price per person: $108
Patron Price: $149
Price for Centers: $399
Price for Groups: $299
NOTE: This course opened May 15. Registration is possible until July 31

Mindful Eating: Joining Heaven and Earth at the Meal Table

If you think of mindful eating as chewing on a single raisin for hours on end, think again. Exploring food with Marcella is anything but a chore or a bore.
This course brings together cross-cultural spiritual teachings and cutting-edge research (heaven), practical tools (earth), and group support (human) to experientially transform food from a means of survival into an expression of personal dignity and enlightened society.
This class will not only enrich your spiritual and intellectual understanding of mindful eating; it will give you simple, effective practices for resolving the unconscious behaviors that sabotage your relationship with food, so that you can effortlessly join the view and practice of eating properly at meal time.

Watch this excerpt from one of Marcella's talks
Course Outline
Module 1: Introduction
Module 2: Mindful Eating: Why Bother?
Mindful Eating and Enlightened Society

Stop Eating Concepts and Start Eating Food

Golden Rules of Mindful Eating

Six Rules for Eating Wisely

How to Think About Food
Module 3: Feeding the Ghosts: Healing Unhealthy Food Habits
The Universality of Hunger
EFT Tapping Instructions

EFT Tapping Guide 1: Choices Method for Food Cravings

EFT Tapping Guide 2: The Discipline to Make Changes

The Upside of Compulsive Eating
Module 4: Making Peace with Your Trigger Foods
Eating One Potato Chip

How to Eat One Potato Chip

Synchronizing Mind and Body

LIVE Event 1 over Zoom
Module 5: Stabilizing the Body with Fermented Foods & Breakfast
Feeding the Ancestors: Why Fermented Foods?

Breakfast: The Key to a Happy Life

Do Gut Bacteria Rule Our Minds?

Rise and Shine: What Kids Around the World Eat for Breakfast

7-Day Breakfast Challenge
Module 6: Your Life is the Supreme Meal
Can Home Cooking Restore Enlightened Society?

Tip Sheet on Meal Planning

Meal Prayers and Blessings from Around the World

The Dawn of the Great Eastern Sun

LIVE Event 2 over Zoom
Module 7: What's Next?
Bibliography
Online Materials:
Recommended Texts:
Books:
Trungpa, Chögyam. "Discovering Magic." Shambhala: The Sacred Path of the Warrior, Shambhala Publications.
Brown, Edward Espe: "How to Eat One Potato Chip." Tomato Blessings and Radish Teachings: Recipes and Reflections. New York: Riverhead, 1994.
Garson, Sandra. Veggiyana: The Dharma of Cooking.Boston: Wisdom Publications, 2007.
Glassman, Bernard, and Rick Fields. Instructions to the Cook: A Zen Master's Lessons in Living a Life That Matters. New York, Bell Tower, 1996.
Ortner, Jessica. The Tapping Solution for Weight Loss and Body Confidence. Carlsbad, CA: Hay House, 2014.
Pollan, Michael. Food Rules: An Eater's Manual.New York: Penguin, 2009.
Scott, Anne. Serving Fire: Food for Thought, Body, and Soul. Berkeley, CA: Celestial Arts, 1994
About the Teacher
In 1994, MARCELLA FRIEL escaped the Bay Area book-publishing scene to cook for 16 cloistered meditators at Gampo Abbey in Cape Breton, Nova Scotia. After a monk commented that cooking was her right livelihood, Marcella began her odyssey to learn and teach healing with natural foods.
In 1998 Marcella attended the Natural Gourmet Cookery School in New York City on a partial scholarship from the International Association of Culinary Professionals and while living in New York developed and ran two nonprofit programs to teach whole-foods cooking skills to low-income adults and children at risk of hunger.
Years later, back in California, Marcella ran the kitchen at Spirit Rock Mediation Center in West Marin County. She also taught fledgling chefs the theories and practices of natural foods cooking at Bauman College's Natural Chef Program from 2005 to 2013.
A student of the Shambhala teachings since 1987 and a teacher since 1996, Marcella has taught mindful eating in the context of oryoki practice at Warrior Assembly and Summer Dathün programs.
Marcella currently runs Tapping with Marcella, a food and body image coaching practice that uses EFT (Emotional Freedom Techniques) to help health-conscious adults love and forgive themselves, their food, and their figure. Learn more at tappingwithmarcella.com.
About Our Courses
The online courses feature a senior Shambhala teacher, an online community of participants, and facilitation by an experienced course leader. Over 6 to 8 weeks, course participants view recorded teachings, then gather in the online learning environment to discuss, contemplate and engage in exercises aimed at deepening their understanding.
When Does the Class Meet?
The course is asynchronous. You may view the recorded talks at your convenience. The recommended schedule is to view one talk each week and complete the associated readings and exercises in the module.
Please note that there will be at least one live session with Marcella at a date to be determined.
How Much Time Does it Take?
Most participants spend 1 to 2 hours per week on our courses. The talks average 45 minutes in length. Allow yourself time to do the readings, meditation practices and other assignments. It's a good idea to schedule the time on your calendar as you would for a face-to-face class.
Registration Options

Individuals: $108.
Centers: $399. Groups: $299. (Please register with your Center or Group account.)

Patrons: $149. This rate supports our efforts to connect teachers and learners through online programs. In particular, it helps us offer the generosity policy to those in need.
Generosity Policy. We want to make the teachings available to all and will work with you to ensure your participation. Click on the Request a Discount link below, to receive a discount code to use at checkout. For a further discount, please write to [email protected].