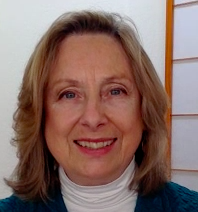 Date: Sunday, August 30, 2020 (15:00 -16:00)

Teacher : Shastri Joanne Martin Braun
Patron Price: $20.00
An interview with Shastri Joanne Martin Braun, Ph.D. Working with money in our daily lives is a basic household activity that can be a fruitful place to utilize our Shambhala principles. Any part of bringing money in, managing it, offering it, or spending it might be particularly challenging at different points of our lives.
Join us as we talk with Joanne about how practicing mindfulness, wakeful management, generosity, and a big view with money can be quite helpful, both pragmatically and emotionally.
About the teacher
Joanne Martin Braun became a student in Shambhala in 1978 and is currently a Shastri. She has a Ph.D. in Counseling Psychology and has been doing coaching and training on using Shambhala principles to work with money for over 20 years. She lives with her husband and daughter in California where she is the manager of a non-profit community organization for older adults.
ABOUT SUNDAY GATHERINGS

Please join us every Sunday for an online gathering of the Shambhala community worldwide. This online space is a place where we can practice meditation together, hear dharma teachings from a featured guest teacher, learn more about the activities of incredible people in our sangha, engage in discussion – and connect with one another, our community, and our hearts.
Sunday Gatherings are produced by Shambhala Global Services and hosted by Shambhala Online.
Sunday Gatherings are presented in English and are live every week at:
North America: 12:00pm PST, 1:00pm MST, 2:00pm CST, 3:00pm EST/CLT, 4:00pm Atlantic/BRT, 8:00pm GMT
International: 9:00pm CET/SAST, 5:00pm +1 AEST, 7:00pm +1NZST
Join the mailing list
To receive ongoing reminders about Sunday Gatherings, click here to join the mailing list >>
Make A Donation
These events are offered free of charge to Shambhala members. Please consider making a donation to support the presenters and production staff that make Sunday Gatherings possible, please click here >>

REGISTRATION
Register below for each upcoming talk. A Zoom link will be sent to you after registration.
Price: This program is FREE of charge
Patron: $20.00
(The Patron rate helps us offer the generosity policy to those in need of discounts or scholarships)
Registration questions? Email [email protected]

Shambhala Online is self-supporting. Your generosity in making a donation so that we may continue to offer free programs is greatly appreciated!