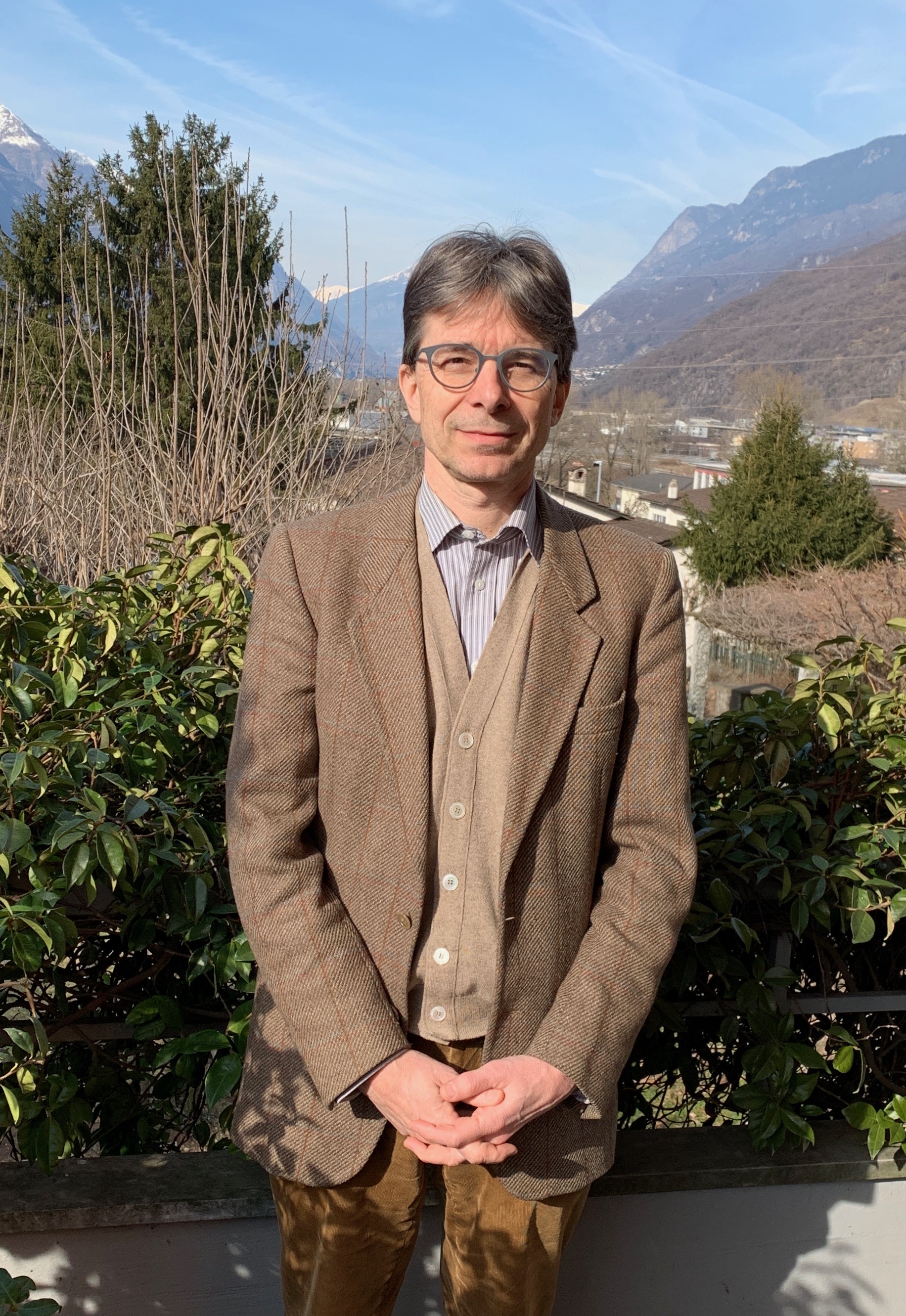 Date: Sunday, October 18, 2020 (15:00 -16:00)

Teacher : Acharya Daniele Bollini
Patron Price: $20.00
Roman emperor and stoic philosopher Marcus Aurelius used to define gentleness as the greatest delight, while patience, according to the Buddhist tradition, helps us to melt aggression into open space. Acharya Daniele Bollini will explore the relationship between these two principles that allow us to meet with kindness the aggression and chaos of our minds and the current time.
L'imperatore romano e stoico filosofo Marcus Aurelius definiva la gentilezza come la più grande delizia, mentre la pazienza secondo la tradizione buddista ci aiuta a sciogliere
l'aggressività nello spazio aperto. Acharya Daniele Bollini esplorerà la relazione fra questi due principi che ci permettono di incontrare l'aggressività e il caos della nostra mente e di questo momento attuale, con gentilezza.
About the teacher
Acharya Daniele Bollini, born in 1965 in Bellinzona (Switzerland), started to study and practice the teachings of the Vidyadhara Chögyam Trungpa Rinpoche in 1981 with the Lugano Dharma Study Group. In 1987 he attended the first Level 1 of Shambhala Training in Switzerland. After his first Dathün in 1989, he attended the first European Warrior Assembly and Vajradhatu seminary both in 1990. In 1994 he received the Warma sadhana lung from Lady Kunchok at Kalapa Assembly. In 1996 he received Vajrayogini Abhisheka with Sakyong Mipham Rinpoche and graduated from Ngedön School of Higher Learning. Between 1991 and 1996 he received Mahamudra and Ati teachings from Khenpo Tsültrim Gyamtso Rinpoche at Shambhala Mountain Center (SMC) and Karme Choling. In 2005, he attended the first Rigden Abhisheka in SMC and received Chakrasamvara Abhisheka. He has been a Scorpion Seal practitioner since 2009. He was Director of the Ticino Shambhala Center from 1990 until 2005 and for some years now he has been a Co-Mentor for the Shambhala communities in Italy. A Meditation Instructor since 1989, and teacher since 1990, he has been teaching, mainly in the Swiss Italian and Italian area. In 2011 he was appointed Shastri for the Milano, Lucca and Ticino Shambhala Centers. He has been working as translator of Shambhala liturgies, practices and texts into Italian for many years and attended several interreligious meetings in Rome representing the Shambhala lineage. In the last years, he has been teaching Shambhala Training to teachers in the secondary schools of Cantone Ticino, in South Switzerland. He is married and has a 17-year-old daughter. After finishing his studies in classical archaeology in Fribourg in 1989, in 1990 he began to teach history, geography and Italian in the secondary school in Ticino. For 10 years, between 2006 and 2016 he has been involved in the formation of new history teachers. He is now active as an expert and consultant in history didactic in the public school of Cantone Ticino. He is co-author of a two-volume book on Swiss history for secondary schools.
Sull'insegnante:
Acharya Daniele Bollini, è nato nel 1965 a Bellinzona, Svizzera ed ha iniziato a studiare e praticare gli insegnamenti del Vidyadhara Chögyam Trungpa Rinpoche nel 1981 con il Gruppo di Studio del Dharma di Lugano. Nel 1987 ha partecipato al primo Livello 1 in Svizzera dello Shambhala Training. Dopo il suo primo Dathün nel 1989, ha partecipato alla prima Assemblea dei Guerrieri Europa e al seminario Vajradhatu nel 1990. Nel 1994 ha ricevuto il lung per la Werma sadhana da Lady Kunchok all'Assemblea Kalapa. Nel 1996 ha ricevuto l'Abhisheka Vajrayogini con Sakyong Mipham Rinpoche ed ha concluso la Ngedön School of Higher Learning. Dal 1991 al 1996 ha ricevuto insegnamenti Mahamudra e Ati da Khenpo Tsültrim Gyamtso Rinpoche a Shambhala Mountain Center (SMC) e Karme Choling. Nel 2005 ha partecipato al primo Rigden Abhisheka a SMC e ha ricevuto l'Abhisheka Chakrasamvara. E' stato un praticante del Sigillo dello Scorpione dal 2009. E' stato direttore del Centro Shambhala Ticino dal 19990 al 2005 e per qualche anno è stato co-mentore per le comunità Shambhala in Italia. Istruttore di meditazione dal 1989 e insegnante dal 1990, ha insegnato principalmente nella Svizzera Italiana e nell'area italiana. Nel 2011 è stato nominato Shastri per i centri di Milano, Lucca e Ticino. Ha lavorato come traduttore per le liturgie, le pratiche e i testi Shambhala in italiano per molti anni e ha partecipato a diversi incontri interreligiosi a Roma rappresentando il lignaggio Shambhala. Negli ultimi anni ha insegnato Shambhala Training agli insegnamenti del secondo ciclo scolastico del Cantone Ticino, nella Svizzera del Sud. E' sposato e ha una figlia di 17 anni. Dopo la fine degli studi in archeologia a Friborgo jnel 1989, nel 1990 ha iniziato a insegnare storia, geografia e italiano alle scuole secondarie in Ticino. Per 10 anni dal 2006 al 2016 è stato coinvolto nella formazione dei nuovi insegnanti di storia. Attualmente è attivo come esperto e consulenta in didattica della storia nelle scuole pubbliche del Cantone Ticino. E' co-autore di un libro in due volumi sulla storia Svizzera per le scuole secondarie.
ABOUT SUNDAY GATHERINGS

Please join us every Sunday for an online gathering of the Shambhala community worldwide. This online space is a place where we can practice meditation together, hear dharma teachings from a featured guest teacher, learn more about the activities of incredible people in our sangha, engage in discussion – and connect with one another, our community, and our hearts.
Sunday Gatherings are produced by Shambhala Global Services and hosted by Shambhala Online.
Sunday Gatherings are presented in English and are live every week at:
North America: 12:00pm PST, 1:00pm MST, 2:00pm CST, 3:00pm EST/CLT, 4:00pm Atlantic/BRT, 8:00pm GMT
International: 9:00pm CET/SAST, 5:00pm +1 AEST, 7:00pm +1NZST
Join the mailing list
To receive ongoing reminders about Sunday Gatherings, click here to join the mailing list >>
Make A Donation
These events are offered free of charge to Shambhala members. Please consider making a donation to support the presenters and production staff that make Sunday Gatherings possible, please click here >>

REGISTRATION
Register below for each upcoming talk. A Zoom link will be sent to you after registration.
Price: This program is FREE of charge
Patron: $20.00
(The Patron rate helps us offer the generosity policy to those in need of discounts or scholarships)
Registration questions? Email [email protected]

Shambhala Online is self-supporting. Your generosity in making a donation so that we may continue to offer free programs is greatly appreciated!
______________________________
A PROPOSITO DEI SUNDAY GATHERINGS
Unitevi ogni domenica agli incontri online della comunità Shambhala mondiale. Questo spazio online è un luogo dove possiamo praticare insieme la meditazione, ascoltare insegnamenti sul dharma da insegnanti ospiti, imparare sulle attività di persone incredibili nella nostra sangha, discutere e connetterci gli uni con gli altri, con la comunità e con i nostri cuori.

Sunday Gatherings sono prodotti da Shambhala Global Services e ospitati da Shambhala Online.

Sunday Gatherings sono presentati in inglese con possibilità di traduzione e si svolgono settimanalmente:
Nord America: 12:00pm PST, 1:00pm MST, 2:00pm CST, 3:00pm EST/CLT, 4:00pm Atlantic/BRT, 8:00pm GMT
Internazionale: 9:00pm CET/SAST, 5:00pm +1 AEST, 7:00pm +1NZST

Unisciti alla mailing list
Per ricevere promemoria sui Sunday Gatherings, clicca qui per unirti alla mailing list.

Fai una donazione
Questi eventi sono offerti gratuitamente senza spese per i membri Shambhala. Puoi fare una donazione a sostegno dei presentatori e dello staff di produzione che rende possibile i Sunday
Gathering. Per favore clicca qui.
ISCRIZIONE
Iscriviti per ogni singolo discorso. Un link Zoom verrà inviato dopo che avrai effettuato l'iscrizione.
Prezzo: Questo programma è GRATUITO
Patron: $20.00
(Il prezzo "Patron" ci aiuta ad offrire con generosità a coloro che necessitano sconti o aiuti finanziari)

Domande sulla registrazione? Email [email protected]

Shambhala Online si auto-sostiene. La tua generosità nel fare una donazione è ampiamente apprezzata perché ci permette di continuare ad offrire dei programmi gratuiti!

NOTA BENE: I prezzi sono in dollari americani. Richiedi uno sconto prima di registrarti, questo ci permetterà di applicare uno sconto per il cambio valuta o per altri motivi.
Richiedi uno sconto