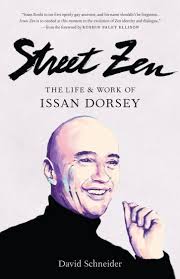 Date: Sunday, November 1, 2020

Teacher : David Schneider
Price per person: $5
Patron Price: $10
Price for Centers: $20
Price for Groups: $15
Welcome to this initiative offered by Shambhala Online!
The Shambhala Online Book of the Month is an opportunity to learn about the recently published books from our many wonderful Shambhala authors and get to know them a little!
Each author will present the book's main teaching and share what inspired them to write about it. Their presentation will be followed by a Q&A where you will be able to engage them and explore their past, current and future offerings.
......................................................................................
Featured Book for November

Street Zen: The Life and Work of Issan Dorsey
by David Schneider
David Schneider chronicles a uniquely influential figure in American Zen.
Issan Dorsey was the Founding Abbot of San Francisco's Hartford Street Zen Center, where he established Maitri Hospice for AIDS patients. Considered a bodhisattva by many of his peers, Issan's practice never strayed from his profound commitment to the poor, the sick, and the marginalized. Indeed, just as he tore down the walls separating the hospice from the Zen center, so he demonstrated that there was no separation between his life as a drag queen and drug addict and his later development into a respected Zen teacher.
Issan was a fixture of the San Francisco community who cared tirelessly for AIDS patients and demonstrated the importance of compassion to a new generation of American Buddhists.
Join the conversation between Tensho David Schneider and Sensei Koshin Paley Ellison, Sunday, November 1 at 2:00 pm Atlantic.
About the Presenters
Tensho David Schneider began Zen practice in 1970 and was ordained as a Zen priest in 1977. He held the position of acharya (senior teacher) in the Shambhala International community from 1996 to 2019. He is co-editor with Kazuaki Tanahashi of Essential Zen, and author of Crowded by Beauty: The Life and Zen of Poet Philip Whalen. He lives in Cologne, Germany
Sensei Koshin Paley Ellison, MFA, LMSW, DMIN, is an author, Zen teacher, Jungian psychotherapist, and Certified Chaplaincy Educator. After many years as a chaplain and psychotherapist, Koshin co-founded the New York Zen Center for Contemplative Care, which offers contemplative approaches to care through education, personal caregiving, and Zen practice. Today, New York Zen Center's methodologies are internationally recognized—and have touched the lives of tens of thousands of individuals. Koshin is a world-renowned thought leader in contemplative care. He is the author of Wholehearted: Slow Down, Help Out, Wake Up (Wisdom Publications, 2019). And the co-editor of Awake at the Bedside: Contemplative Teachings on Palliative and End of Life Care (Wisdom Publications, 2016). His work has been featured in the New York Times, PBS, CBS Sunday Morning, Tricycle among other publications.
Join live or watch later!
The live session is scheduled for Sunday, November 1 at the following times:
10:00am (Pacific) / 11:00am (Mountain) / 12:00pm (Central) / 1:00pm (Eastern) / 2:00pm (Atlantic) / 18:00 (UK) / 19:00 (Central Europe)
Fee: $5 Individual / Patron $10 / Center $20 / Group $15
Please register (login below) so we can send you:
- A link to participate in the live event
- Access to view the archived video after the live event concludes
Questions? Write to [email protected].
To view the full schedule of our Shambhala Online Book of the Month offerings, or to view past recordings, please click here.