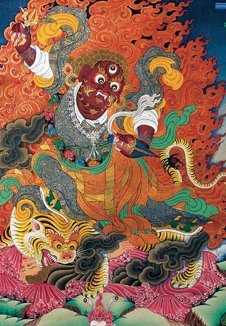 Price per person: $108
Patron Price: $149
Price for Centers: $399
Price for Groups: $299
Please note: This "open enrollment" course may be completed on your own schedule. The course is open to all.

Sadhana of Mahamudra - A Practice For This Dark Age

The Sadhana of Mahamudra is considered one of Venerable Chögyam Trungpa Rinpoche's most important and enduring legacies. As a practice liturgy it is a powerful way to engage with the highest teachings. According to his own teachers and other respected Buddhist leaders, it is terma, or mind treasure, worthy of a lifetime of study.
Over the course of six modules of study and practice, Suzann Duquette leads a deep exploration of the Sadhana of Mahamudra. Five talks were filmed via Karmê Chöling in 2020 during a Parinirvana weekend celebration of Trungpa Rinpoche's life and teachings.
The course can be taken by individuals or groups as a weekend retreat or over a span of several weeks. Practice sessions, led by Umdze Marian English, are accessible on their own for practice at any time. A feast practice session is also included. The syllabus, shown below, includes background on the sadhana's revelation during Trungpa Rinpoche's retreat in Bhutan in an environment thought to be visited by Padmasambhava. Key themes and sadhana structure are explored. Contemplations, study suggestions, and discussion prompts are included in the course.
Reading List
The Lion's Roar - An Introduction to Tantra,

Chögyam Trungpa Rinpoche

Crazy Wisdom

- Chögyam Trungpa, Crazy Wisdom Seminar I:

Chapter One: Padmasambhava and Spiritual Materialism;

Chapter Four: Eternity and the Charnel Ground

Crazy Wisdom Seminar II: Chapter Seven: Dorje Trolö and the Three Styles of

Transmission
The following is recommended for those who have taken the Sadhana of Mahamudra Abhisheka:
The Sadhana of Mahumudra Tris With Retreat Guidelines by the Vajravairochana Translation Committee,

Sakyong Mipham Rinpoche; Judy L. Lief, Editor
About the Teacher
Suzann Duquette has been a student in the lineage of Sakyong Mipham Rinpoche and the Vidyadhara, Chögyam Trungpa Rinpoche for 45 years and has served as a leader and teacher since the 1980s. Suzann Duquette respects the power of body awareness in deepening spiritual awakening and emphasizes body disciplines in her retreats and programs. She teaches widely, including meditation retreats, Mudra Space Awareness and Daoist-Qigong.
Registration Options

Individual rate: $108.
Patrons: $149. The Patron rate supports our efforts to connect teachers and learners through online programs. In particular, it helps us offer the generosity policy to those in need
Centers: $399. Groups: $299. (Please register with your Center or Group account. For instructions on creating an account, see this link.)
* * * * *
Generosity Policy.
This program offers a "pay-what-you-can" option. Register below to access the option.