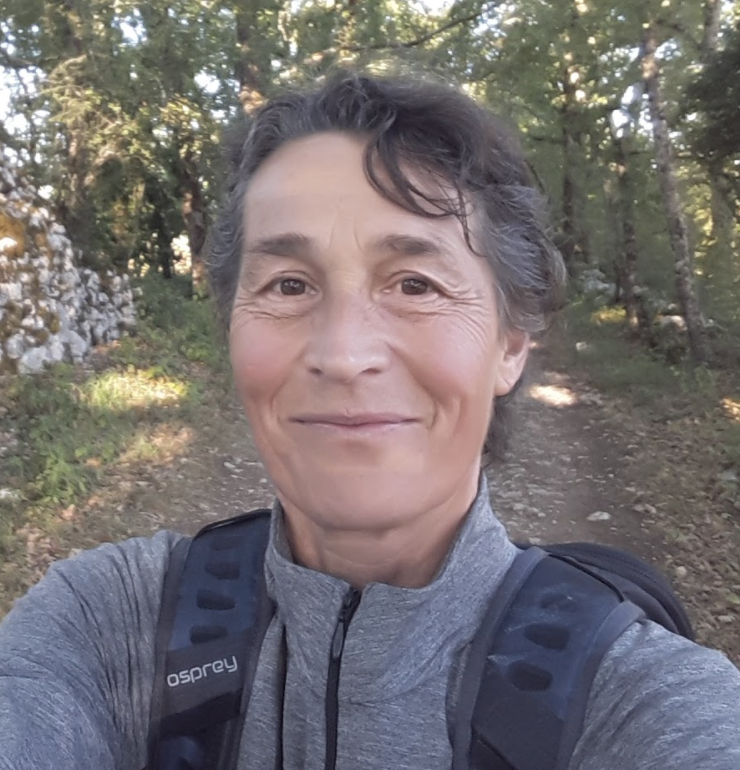 Date: Sunday, October 25, 2020 (15:00 -16:00)

Teacher : Catherine Eveillard
Patron Price: $20.00
Dimanche, le 25 octobre, 2020 at 15:00 (Heure de l'est)
This gathering will have simultaneous interpretation from French to English and from French to Spanish available.
"Our generation's crime against the future beings on earth will be too terrible to be believed, unless it is already acknowledged by us." This quote by the great Buddhist scholar and Deep Ecology activist, Joanna Macy, has been a haunting refrain for presenter Catherine Evillard. In keeping with the profound wisdom held in Shambhala, participants will be invited to go on a journey where acceptance and forgiveness begins with oneself and raising windhorse (or "lifeforce energy") for the present is deeply connected with the visionary explorations imagined by Joanna Macy.
« Le crime de notre génération envers les êtres du futur est trop terrible pour être pensable, à moins que nous ne le reconnaissions nous-même dès aujourd'hui. » Cette phrase de Joanna Macy, grande femme lettrée, bouddhiste, militante et activiste de l'écologie profonde, me hante. A la lumière de la profonde sagesse détenue dans Shambhala, je vous propose de m'accompagner dans un voyage où l'acceptation de nos erreurs et le pardon commencent avec nous-mêmes, et où l'exploration visionnaire de Joanna Macy augmente et stimule le cheval du vent du maintenant.
About the teacher
Catherine Eveillard set afoot for the first time in the Shambhala center in Montreal in the winter 1985 and felt immediately she had found home. She attended the first seminary with the Sakyong Mipham Rimpoche in 1992 in SMC and became his student. In 1994 she married with Herbert Elsky whom she met in KCL and in 1995 they both left North America to move to France to launch the transformation of an old countryside mansion into a bright and lively European Center: Dechen Chöling. Catherine, an architect by profession, has been involved both as an architect for the renovation and expansion of Dechen Chöling and as a director in the very first pioneering years of DCL. From the beginning, the place was booming with dralas and she gave birth to their only child in the first year of their arrival in DCL, Felix who is now 24. Since the year 2000, Catherine has been an active teacher of the Sacred Path of Warriorship. Inspired by the Deep Ecology philosophers and activists, she has been exploring different ways to integrate the Shambhala teachings with present researches which consider our world and all its beings as a continuum, acting in creative response and mutual interdependence. Catherine is currently an active member of the Process team of Shambhala. Her last conference in Paris Shambhala center was titled: "Smile at collapse".
Catherine Eveillard a mis le pied pour la première fois au centre Shambhala de Montréal en 1985 et s'est sentie immédiatement à la maison. Elle a suivi le premier séminaire du Sakyong Mipham Rimpoché à SMC en 1992 et est devenue son étudiante. En 1994, elle a épousé Herbert Elsky qu'elle avait rencontré à KCL et en 1995, ils ont quitté ensemble l'Amérique du Nord pour lancer la transformation d'un petit château de la campagne limousine en un Centre européen pour la communauté Shambhala. Catherine, architecte de profession, y a œuvré à la fois comme architecte pour la rénovation et l'agrandissement de Dechen Chöling, et également en tant que directrice dans les toutes premières années. Elle donna aussi naissance à un fils Félix dans la première année de leur arrivée à DCL. Depuis le début des années 2000, Catherine est une enseignante active de la Voie sacrée de Shambhala, en France et en Europe. Inspirée par les philosophes et activistes de l'Écologie profonde comme Joanna Macy et Francisco Varela, elle a fait de nombreuses expérience d'intégration des enseignements Shambhala avec les recherches actuelles qui considèrent notre monde et toutes les créatures qui l'habitent comme un continuum, où toute action peut être décrite en terme de créativité naturelle et de mutuelle interdépendance. Catherine est aujourd'hui une membre active de L'Équipe de Processus de la communauté Shambhala. Sa dernière conférence au centre Shambhala de Paris était intitulée : Sourire à l'effondrement.
ABOUT SUNDAY GATHERINGS
Please join us every Sunday for an online gathering of the Shambhala community worldwide. This online space is a place where we can practice meditation together, hear dharma teachings from a featured guest teacher, learn more about the activities of incredible people in our sangha, engage in discussion – and connect with one another, our community, and our hearts.
Sunday Gatherings are produced by Shambhala Global Services and hosted by Shambhala Online.
Sunday Gatherings are presented in English and are live every week at:
North America: 12:00pm PST, 1:00pm MST, 2:00pm CST, 3:00pm EST/CLT, 4:00pm Atlantic/BRT, 8:00pm GMT
International: 8:00pm CET/SAST, 5:00pm +1 AEST, 7:00pm +1NZST
Join the mailing list
To receive ongoing reminders about Sunday Gatherings, click here to join the mailing list >>
Make A Donation
These events are offered free of charge to Shambhala members. Please consider making a donation to support the presenters and production staff that make Sunday Gatherings possible, please click here >>

REGISTRATION
Register below for each upcoming talk. A Zoom link will be sent to you after registration.