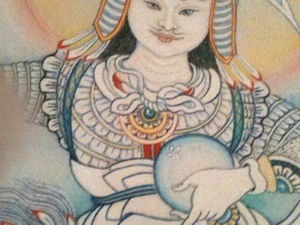 Date: Tuesday, December 15, 2020
Friday, December 31, 2021

Teacher : Christie Cashman
Price per person: $49
Patron Price: $79
Offering from Scorpion Seal Assembly 6, July 2017 by Christie Cashman
This registration is for recorded talks from a Scorpion Seal Year 6 Assembly that took place in July, 2017 and was led by Christie Cashman.
Talk 1 - "Inner Yoga Overview" Part 1 and "Inner Yoga Overview" Part 2
Talk 2 - "Meeting the Trees, Rock and Skies"
Talk 3 - "Guided Practice"
Talk 4 - "Ashe Mahamudra: Tiger and Lion"
Talk 6 - "

Conviction in Practice

"
About the Teacher - Christie Cashman

Christie first studied the dharma with Suzuki Roshi while attending the University of California at Berkeley as a teenager. In 1971 she moved to Boulder, Colorado to begin a life of intensive study and long meditation retreats while teaching under the guidance of Trungpa, Rinpoche. She worked for his organization, known then as Vajradhatu, for 16 years before moving to Nova Scotia. There she served as International Executive Director of Shambhala Training and was an acharya under Sakyong Mipham, Rinpoche, teaching and travelling intensively for 20 years. Today Christie enjoys leading small study and meditation groups for students who wish to deepen their practice and understanding, learn from each other and, together, uncover the essence of a variety of dharmic topics.
Prerequisite: Scorpion Seal Assembly Year 6 or above.
Registration
Suggested Donation
$49 - Individual Price. This price allows us to cover the costs for the program and keep Shambhala Online operational.
$79 - Patron Price. This price allows us to offer discounts and scholarships.
Pay What You Can. On the registration page, enter in the price you can pay to access these teachings.
Shambhala Online operates as a non-profit, and all revenues goes towards paying teachers, salaries, and to support and strengthen our infrastructure.