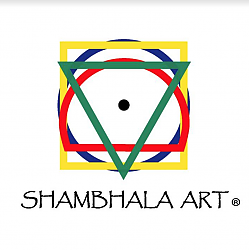 Price per person: $149
Patron Price: $199
About the Course
Through meditation we come to see things as they are as opposed to how we think or imagine they are. We discover that everything has a felt presence to it as well as a thought sense that we bring to it. What we create and perceive communicates through signs and symbols. Signs communicate primarily information and the thought sense of things. Symbols on the other hand are primarily about non-conceptual direct experience, the presence and the felt sense of things. Seeing the difference between signs and symbols, thought sense and felt sense, as well as how they work together empowers our creative and viewing processes.
When does the class meet?
The course is asynchronous. You may view the recorded talks at your convenience. The recommended schedule is to view one talk each week and complete the associated readings and exercises in the module. There are 6 modules. A course outline will be available soon.
Please note: This "open enrollment" course may be completed on your own schedule.
Prequisite: Shambhala Art Part I.
About the Teachers
Steve Saitzyk is a student of the Vidyadhara, Chögyam Trungpa Rinpoche, and the Kongma Sakyong II, Mipham Rinpoche; International Director of Shambhala Art; Adjunct Professor at Art Center College of Design in Pasadena (one of the leading art colleges in North America); painter with numerous showings and collections; and a world- renowned expert on artist's materials. He attended many of the Vidyadhara's early lectures on dharma art, attended the Vidyadhara's Buddhist Seminaries, and has practiced and taught meditation for more than forty years. Steve has also consulted and lectured on meditation, Dharma Art, Shambhala Art, Vajrayana Buddhism and its iconography, Tibetan art, symbolism, as well as on the materials used to create both Asian painting and art of the western world. Following the passing of the Vidyadhara and with the Sakyong's support and guidance, Steve helped to establish Shambhala Art.
Steve is the author of ART HARDWARE: The Definitive Guide to Artists' Materials, a book about the nature of materials for artist use. He also wrote Place Your Thoughts Here: Meditation for the Creative Mind, a companion to the collected dharma art lectures of the Vidyadhara Chogyam Trungpa Rinpoche published as True Perception. Steve's professional website is https://stevensaitzyk.com.
Anne Saitzyk is an artist, serves as Director of Contemplative Arts at Shambhala Meditation Center of Los Angeles and co-founded Contemplative Creativity Lab. She received her MFA in painting from Claremont Graduate University and her BFA in illustration from Art Center College of Design. She met the Shambhala Buddhist dharma through the Dharma Art program in 1997 and is Assistant Director of the international Shambhala Art program. She has been teaching painting and drawing at Art Center College of Design Extension (ACX) since 1994 and occasionally teaches in other parts of the world.
Registration Options
The Patron rate of $199 supports our efforts to connect teachers and learners through online programs. In particular, it helps us offer the generosity policy to those in need.
Generosity Policy. We want to make the teachings available to all and will work with you to ensure your participation. See the "Pay what you can afford" option when you register.