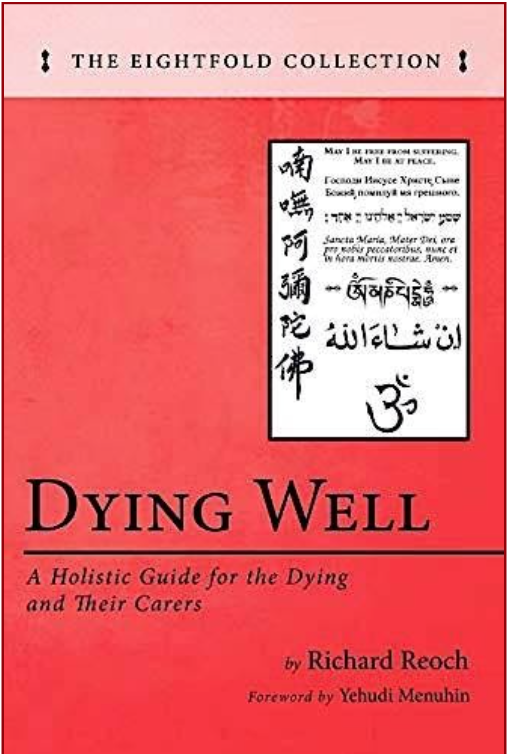 Date: Saturday, April 3, 2021

Teacher : Richard Reoch
Price per person: $30
Patron Price: $45
"Dying Well" A two-part Shambhala Online conversation
with Richard Reoch and Hosted by Ron Schultz
Saturday 13 March 2021 and Saturday 3 April 2021
11am (PT) / 12pm (MT) / 2pm (ET) / 3pm (AT) / 7pm (UK) / 8pm (CET)
"Throughout human culture there has been a sustained tradition of people who looked death in the face, embraced it and died well. In doing so they transformed their lives and the lives of all who knew them."
With guests Anne Lepelars, Melanie Klein, Larry Littlebird, Dr. Maria Lewis and Joshua Northcutt
in dialogue and with open online conversation.
This two-part conversation will bring together a diverse group of practitioners, both within and beyond Shambhala, who help people prepare for death, care for the dying, support carers, and counsel survivors of violence. The conversations will be open to questions and contributions from the online gathering.
This online event has been arranged to mark the re-issuing of Dying Well by Richard Reoch. Originally published internationally in 12 languages 24 years ago, it has just been re-issued by US publisher Wipf and Stock.
The book, with a foreword by Yehudi Menuhin, embraces perspectives from world wisdom traditions. It gives illustrated guidance on complementary therapies like Chi Kung and aromatherapy that assist breathlessness and other common conditions. It provides practical guidance on home care and offers meditative practices to support the inner journeys of everyone involved.
"Dying well involves a fuller understanding of death, a conscious application of its lessons in our lives. It involves cultivating the attitudes and feelings by which both the dying person and those around them can live out the fullness of their humanity."
Presenter
Richard Reoch, author of Dying Well: A Holistic Guide for the Dying and their Carers.
Host
Ron Schultz, social innovator, founder of Entrepreneur4Change, author of many books, including Creating Good Work and The Complex Buddhist: Doing Good in a Challenging World. He is also the Acquisition Editor for the Eightfold Collection
Panel Guests
Melanie Klein is an ordained Buddhist chaplain in the Shambhala tradition. She currently serves as Director of Operations for the international Shambhala organization.
Anne Lepelars, from the Netherlands, currently providing psycho-social support in the SEED program's humanitarian assistance to victims of mass violence in Iraq.
Dr. Maria Lewis is a hospital physician in a community hospital, where, among many things, she helps families navigate how aggressive care should be to meet the goals of chronically- or critically-ill patients. Previously, Dr. Lewis was also a hospice director.
Larry Littlebird is the founding director of Hamaatsa, an organization that uses an indigenous approach to governance through a council process. He is a Laguna/Santa Domingo Pueblo elder.
Joshua Northcutt Joshua Northcutt has been a Registered Nurse since 1994 and currently focused on Hospice and Palliative Care in Los Angeles and Orange Counties.
Registration Options
The registration fee includes access to both live sessions and video recordings.
If attending only one live session, you may offer less, using the "pay-what-you-can-afford" option when you register below.
Individuals: $30.
Patrons: $45.