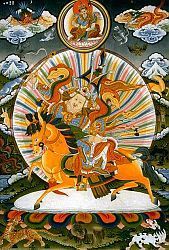 Date: Friday, July 2, 2021

Teachers : Dr. David Shapiro & Dr. Jane Hawes
Price per person: $108
Patron Price: $149
Price for Centers: $399
Price for Groups: $299
COURSE OPENS JUNE 27th!
The Epic of Gesar of Ling
King Gesar was not an ordinary human being but rather a manifestation of the enlightened activity of all the buddhas, brought forth by the strength of their great compassion at a time of despair in the land of Tibet. Dating from the ninth century and with versions originating in many of the countries of Asia, Gesar's story paints a detailed picture of the culture and life of the time. In this course, Gesar translators David Shapiro and Jane Hawes introduce us to this epic tale that has the power to change one's mind.
This course will provide a comprehensive introduction to the Epic of Gesar, including its context and meaning as a literary, cultural and (most importantly) dharma treasure.
The course consists of FOUR pre-recorded talks and FIVE live discussions with the teachers. The recordings will be made available one week prior to each live session. The discussions are offered each Saturday in July.
Schedule for the Live Events with the teachers:
Talk 1 (Live) - Introduction: July 3rd at 1pm (ET)
Discussion 1: July 10th at 1pm (ET)
Discussion 2: July 17 at 1pm (ET)
Discussion 3: July 24th at 1pm (ET)
Discussion 4: July 31st at 1pm (ET)
NOTE: The LIVE sessions will be recorded and archived for viewing after each session.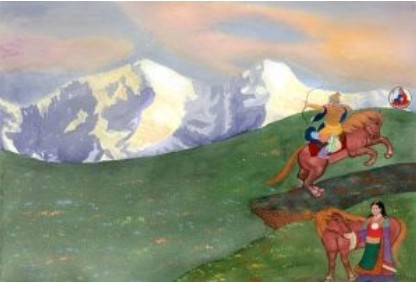 Image (c) 2020 Greg Smith
These recordings and conversations will cover:
The background of the initial translation and issues regarding translation work in general and the epic in particular.

A précis of Volumes 1-3 and discussion of the main characters in some detail.

The role of the feminine principle as it relates to the epic.

Outline of Tibetan history from its prehistory until the time of Gesar.

The elevation of Tibetan Buddhism and Padmasambhava as it relates to the Gesar Epic.

The tangled web of Zhang Zhung, Bön, Shambhala and Gesar.

Politics and religion as it relates to the Gesar Epic from its origin a thousand years ago until the present day.
The ideal warrior, Gesar of Ling is a trusted leader who tames the enemies that turn people from the path of wisdom and compassion. Studying this legend gives us profound, practical guidance on how to be a warrior in difficult times and rouse life force in the midst of obstacles. Gesar of Ling is the main 'protector' of the Shambhala community and a primary inspiration of the Shambhala teachings.
.........................................
Teachers: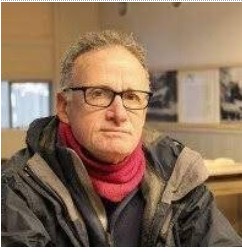 David Shapiro became a student of Chogyam Trungpa Rinpoche in 1973 and was the founder-director of the Milwaukee Dharmadhatu (now the Milwaukee Shambhala Center). He currently serves as an occasional speaker at the Jikoji Zen Center in California. He was a practicing internist for 35 years and Associate Clinical Professor of Medicine at The Medical College of Wisconsin. He is a past president of the Milwaukee Academy of Medicine, a Fellow of the American College of Physicians and held numerous administrative positions with Ascension Healthcare-WI including eight years as Chief Medical Officer. He is a member of the Light of Berotsana Translation Group and the Heart Essence Sangha Council. He contributed the historical introduction to the first book of the epic and is the author of Gesar of Ling: A Bardic Tale from the Snow Land of Tibet and Gesar and COVID-19: An Ancient Warrior Returns to Battle the Pandemic. David volunteers as a tax-preparer and financial advisor for a local charitable facility.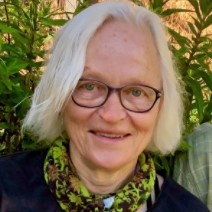 Jane Hawes, MD, became a student of Chögyam Trungpa Rinpoche in 1977 and received Vajrayogini abhisheka in 1996. She is a student of Khen Namdrol Rinpoche and a member of Light of Berotsana Translation Group for which she has been active in editing and formatting many liturgical texts. She began studying Tibetan with the late Robin Kornman, PhD, in 2002 and now studies with Lama Chönam. She has completed a translation of volume four of the Gesar epic with Lama Chönam, which will be published in August, 2021 by Shambhala Books, entitled The Taming of the Demons. She was responsible for compiling and preparing for publication The Epic of Gesar of Ling: Gesar's Magical Birth, Early Years, and Coronation as King, as well as editing David Shapiro's books, Gesar of Ling: A Bardic Tale from the Snow Land of Tibet and Gesar and COVID-19: An Ancient Warrior Returns to Battle the Pandemic. She practiced Internal Medicine in Milwaukee, WI for 35 years, served as a preceptor for Residents in training, and is a Fellow of the American College of Physicians.
David and Jane also raised three children and now live in California where, during the COVID pandemic, they oversee full-time distance learning for two of their five grandchildren. Alongside her meditation practice and translation work, Jane enjoys simplicity in lifetime with her family, being outside, exercise with weight training reading, and baking.
____________________________________________________________________________________________________________________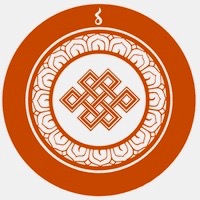 This course is part of a 3-month 'Gesar Cycle' of teachings hosted by Karmê Chöling. This longer cycle features a second series of talks from the archives by the late Gesar scholar and translator Robin Kornman. These talks will deepen and expand on the material in this first course. The 'Gesar Cycle' also includes online practice retreats, additional discussions of Gesar practices, and special live teaching events.
To find out more and register for the three-month cycle with KCL, click here:
https://www.karmecholing.org/program?id=6681
.....................................
Registration Options for the Shambhala Online Course:
Individuals: $108. Centers: $399. Groups: $299.

Patrons: $149. The Patron rate supports our efforts to connect teachers and learners through online programs. In particular, it helps us offer the generosity policy to those in need.
Generosity: To access the 25% assistance discount, click the Request a Discount link, or use the Register Now link to pay another amount.
Questions?
For questions about registration or payment, email [email protected]
For technical questions email [email protected]