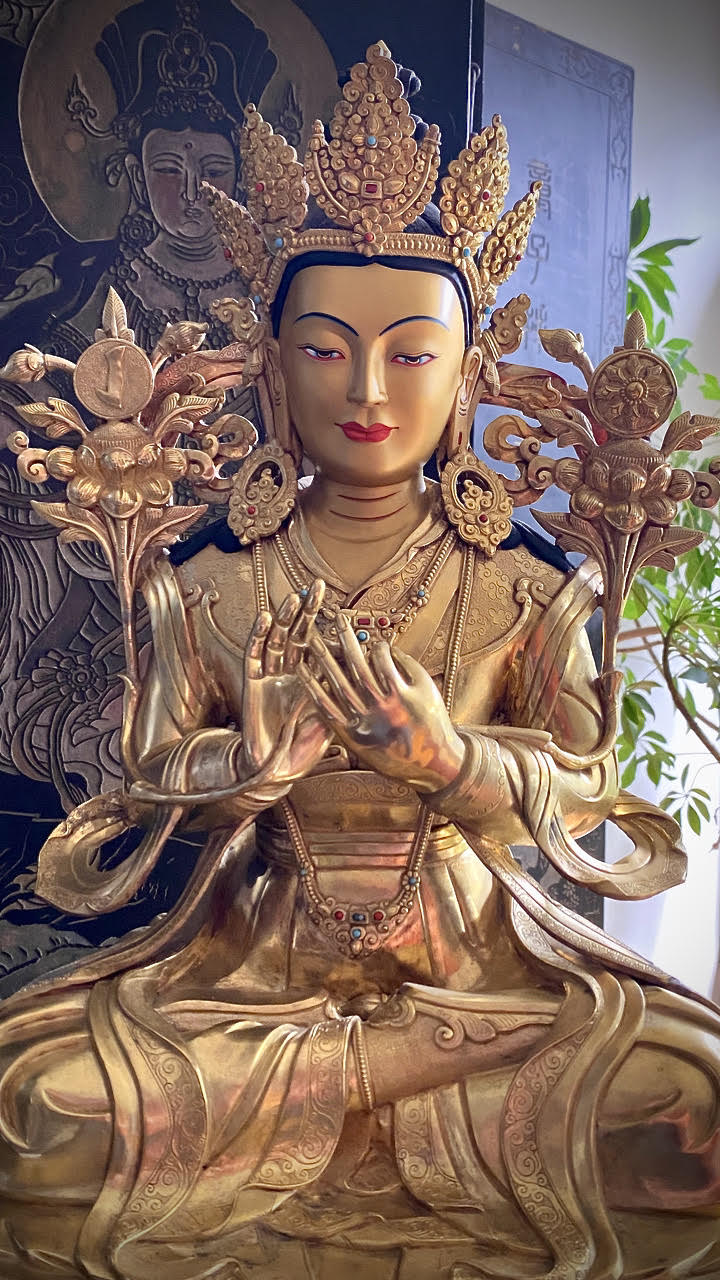 Price per person: $108
Patron Price: $149
Price for Centers: $399
Price for Groups: $249
Celebrating Goodness and Wisdom is an in-depth exploration of the core elements of feast practice. This pre-recorded Vajrayana course will be of interest to new and not-so-new practitioners alike. The course is divided into six classes. The first two classes cover issues related to food and dining from the perspective of the three yanas and Shambhala culture. This lays the ground for the rest of the course, where we will look at the structure of the feast, roles involved in a feast, the basic themes in feast practice, etiquette, samayas, and tantric symbolism.

Prerequisite:
Vajrayana transmission at Sacred World Assembly, Vajrayana Seminary or Shambhala/Vajradhatu Seminary.


Feast Course Invitation by Walker Blaine.
Suggestions for doing the course:
-If you are doing the course at a center, schedule the classes a few days before each feast and have a brief conversation before the feast itself, and some discussion about your feast experience during the next class.

-Individuals taking the course are encouraged to contact a friend or a group of vajra companions to sign up for the class, to schedule online discussions and feasts together, or to keep in touch by email.
-Whether taking the course in a group or individually, conclude the series with a feast.
Recommended Schedule:
This program consists of six recorded classes, which can be completed on your own time. There are no live events in this course. You may view the talks at your convenience. The suggested schedule is to complete one class each week and do the associated readings and exercises.

You could spend 2 to 3 hours on each class. The video teachings in each class average 45 minutes in length and are divided into several shorter sections. Allow yourself time to do the readings, meditation practices and other assignments. It's a good idea to schedule your sessions on your calendar as you would for a face-to-face class. Plan on doing feasts online, at your center or on your own.
About the teacher
Walker Blaine has offered several, pre-recorded Shambhala Online courses in recent years. His style of teaching is gentle, detailed, and good-humored.
Walker has been part of the community for more than 35 years, spending many of those years working, living, or on retreat at rural land centers. In addition to being a student of Sakyong Mipham Rinpoche and Chögyam Trungpa Rinpoche, Walker studied intensively under the guidance of Khenpo Tsültrim Gyamtso Rinpoche, one of the great meditation masters who left Tibet in the late 1950s. Since 2012 Walker has provided background support for the texts and instructions of the Sakyong lineage teachings, as well as overseeing Tibetan translation projects for Sakyong Mipham Rinpoche. His account of the Rinchen Terdzö received by the Sakyong in 2008 can be downloaded here. Walker lives with his wife Patricia and their son Griffin in Halifax, Nova Scotia and is working on a book about Shambhala Buddhism.

Registration Options
1) Regular Amount. $108 for individuals. $399 for Centers; $249 for Groups.
2) Patron. The Patron rate of $149 supports our efforts to connect teachers and learners through online programs. It helps us offer the generosity policy to those in need.
3) Pay Another Amount. To pay something other than the listed regular or patron amounts, please write to [email protected]
The dharma is precious. Please consider the value of the course to you personally within the context of your current circumstances when making your offering.
NOTE to Centers and Groups: Please use your Shambhala Center account to register. Click here for instructions on creating an account.
Click here for our Refund Policy