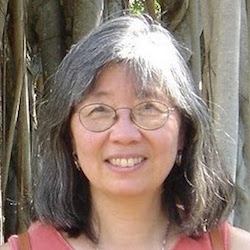 Date: Sunday, February 6, 2022 (15:00 -16:00)

Teacher : Dr. Elaine Yuen
Patron Price: $20.00
I've been in the Shambhala community since the early 1970s, but recently, in the midst of current conversations around race, ethnicity, and belonging, took some time to consider my Asian American identity, and how it "shows up" in different contexts. What are the cultural and political differences, and how do I "belong" to diverse social/community groups? Using a personal lens as a starting point, I would like to invite you to join me in considering how our experiences of culture – learned from birth as well as from current contexts – intersects with behaviors and stances that variously evolve into group belonging or political activity. Of particular interest is how Shambhala practices and teachings of meditation and warriorship might support this contemplation.
ABOUT THE TEACHER
Elaine Yuen is an educator, chaplain and researcher, most recently a Professor at Naropa University in Boulder, Colorado where she taught courses on pastoral caregiving (chaplaincy), contemplative education and Buddhist studies. A senior teacher and Buddhist minister within the Shambhala community, she has taught widely, exploring the interfaces between Buddhism, meditation, creativity, and contemplative care-giving. Elaine has returned to Philadelphia and continues to be deeply interested in how we shape our social interactions with caring and authentic presence. Her website on Contemplative Chaplaincy can be found at www.elaineyuen.com.
ABOUT SUNDAY GATHERINGS
Please join us every Sunday for an online gathering of the Shambhala community worldwide. This online space is a place where we can practice meditation together, hear dharma teachings from a featured guest teacher, learn more about the activities of incredible people in our sangha, engage in discussion – and connect with one another, our community, and our hearts.
Sunday Gatherings are produced by Shambhala Global Services and hosted by Shambhala Online.
Sunday Gatherings are presented in English and are live every week at:
North America: 12:00pm PST, 1:00pm MST, 2:00pm CET, 3:00pm EST/CLT, 4:00pm Atlantic
International: 5:00pm Brazil, 8:00 pm GMT / 9:00pm CET/SAST, 6:00am +1 AEST, 8:00am +1NZST
Join the mailing list
To receive ongoing reminders about Sunday Gatherings, click here to join the mailing list >>
Make A Donation
These events are offered free of charge to Shambhala members. Please consider making a donation to support the presenters and production staff that make Sunday Gatherings possible, please click here>>

REGISTRATION
Register below for each upcoming talk. A Zoom link will be sent to you after registration.
A recording will be available a few days after the event by logging in at My Programs and clicking on the program name.
Questions? Email [email protected] >>