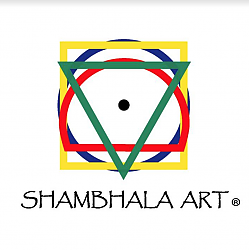 Price per person: $0.00
Patron Price: $0
El proceso creativo tiene más que ver con la percepción que con el talento y requiere de que primero percibamos el mundo tal y como es antes de poderlo representar en alguna forma o utilizarlo como plataforma para la expresión. La meditación nos ayuda en este proceso a clarificar nuestras percepciones, relajando nuestro monólogo implacable y desvelando la fuente de la creatividad. A través de la meditación también aprendemos a descansar en el 'punto de partida' un estado de atención plena y conciencia donde nuestra mente, cuerpo y entorno están sincronizados y la autoexpresión se puede transformar en expresión pura.
About the Course
Shambhala Art Part I: Coming To Your Senses
This program is available to you whether or not you consider yourself an artist or a meditator. The Shambhala Art teachings celebrate art that springs from the meditative mind. They remind us to appreciate the uniqueness of everyday sensory experience, the art of everyday life. Seeing the simplicity and brilliance of "things as they are" provides the ground for genuine creativity, which is the expression of non-aggression.
In part one of the five-part Shambhala Art curriculum, we develop meditation as the ground for all creative endeavors. Through a sequence of experiential exercise, we glimpse our capacity for spontaneous creative expression that is independent of agenda or forced cleverness. These glimpses provide the initial confidence that we can rest with ourselves and our world. According to the Shambhala Art teachings, resting with ourselves and our world is the ground for the creative process.
We cover the following topics in Shambhala Art Part 1:
Learning the value of slowing down and establishing a practice of shamatha meditation
Understanding the concepts of "felt sense" and "thought sense," and how allowing felt sense to proceed thought sense allows us to have deeper and more authentic experiences
Learning to appreciate the vividness of experience and trusting our "first thought, best thought."
When does the class meet?
The course is asynchronous: you may view the recorded talks at your convenience. The recommended schedule is to view one talk each week and complete the associated readings and exercises in the module. There are 6 modules. The course facilitators will interact with the course on a weekly basis to support all learners, and we strongly encourage you to respond to and engage with your fellow course participants.
Please note: This "open enrollment" course may be completed on your own schedule. The course is open to all.
About the Teachers
Steve Saitzyk is a student of the Vidyadhara, Chögyam Trungpa Rinpoche, and the Kongma Sakyong II, Mipham Rinpoche; International Director of Shambhala Art; Adjunct Professor at Art Center College of Design in Pasadena (one of the leading art colleges in North America); painter with numerous showings and collections; and a world- renowned expert on artist's materials. He attended many of the Vidyadhara's early lectures on dharma art, attended the Vidyadhara's Buddhist Seminaries, and has practiced and taught meditation for more than forty years. Steve has also consulted and lectured on meditation, Dharma Art, Shambhala Art, Vajrayana Buddhism and its iconography, Tibetan art, symbolism, as well as on the materials used to create both Asian painting and art of the western world. Following the passing of the Vidyadhara and with the Sakyong's support and guidance, Steve helped to establish Shambhala Art.
Anne Saitzyk is an artist, serves as Director of Contemplative Arts at Shambhala Meditation Center of Los Angeles and co-founded Contemplative Creativity Lab. She received her MFA in painting from Claremont Graduate University and her BFA in illustration from Art Center College of Design. She met the Shambhala Buddhist dharma through the Dharma Art program in 1997 and is Assistant Director of the international Shambhala Art program. She has been teaching painting and drawing at Art Center College of Design Extension (ACX) since 1994 and occasionally teaches in other parts of the world.
Stuart Rice is a Shambhala Art teacher and the Director of Communication for Shambhala Art. He works closely with both Anne and Steve to bring these rich teachings to the online space. In addition to his role with Shambhala Art, Stuart is a director for digital initiatives in Arizona State University's Mary Lou Fulton Teachers College.
Registration Options
The Patron rate supports our efforts to connect teachers and learners through online programs. In particular, it helps us offer the generosity policy to those in need.
Generosity Policy. Request a discount below, or see payment options when you register.