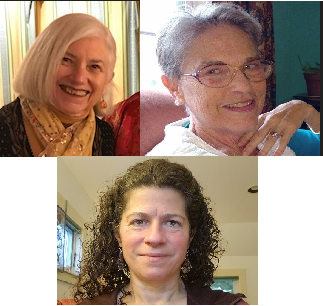 Date: Sunday, July 17, 2022 (15:00 -16:00)

Your donation helps us continue to offer these weekly gatherings to the community free of charge.
Shambhala Touching the Earth Collective has begun to facilitate Climate Café's on a quarterly basis. These online gatherings may also be held in person or virtually in local centers, offering a big space to bring all our disparate emotions, hopes and fears about our home planet's climate dissonance. A space of empowerment for sharing feelings, listening, and witnessing. The idea is simple: meet with other people and take turns expressing and listening to what arises in us in response to our changing climate and the degradation of our ecosystems. The facilitators will present the rationale for Climate Café and our vision for how this can support our community at this time.
ABOUT THE TEACHER

Sara Demetry began practicing with the Shambhala community in 1998. She moved to Vermont to live and work at Karme Choling in 2004 and now works as a psychotherapist in private practice. She lives with her husband and cats, is an avid gardener, amateur herbalist, and has a deep interest in witnessing ecological grief and nurturing awareness and connection with the Earth. Deborah Luscomb, although primarily known for her decades of ritual textile production, has a passion for bringing people together around difficult, but necessary conversations. In addition to hosting the Halifax Death Café and Final Curtain Films, she leads Advance Planning workshops, acts as a Thanadoula and Funeral Guide, assisting during the transition and postmortem experience, and is a Founder, and Past Chair of Green Burial Nova Scotia. She brings extensive training in meditation, contemplation, deep listening and midwifery… and a fine sense of humour… to this inevitable adventure. Angela Pressburger is a retired film programmer who loves to garden. For the past ten years, she has been a strong supporter of FarmWorks, a Nova Scotia community loan organization that helps small farmers and associated businesses across the province; and she once tried to create a Shambhala Agricultural Foundation in Kalapa. Angela has completed training as a Life Coach and practiced for several years in British Columbia.

ABOUT SUNDAY GATHERINGS
Please join us every Sunday for an online gathering of the Shambhala community worldwide. This online space is a place where we can practice meditation together, hear dharma teachings from a featured guest teacher, learn more about the activities of incredible people in our sangha, engage in discussion – and connect with one another, our community, and our hearts.
Sunday Gatherings are produced by Shambhala Global Services and hosted by Shambhala Online.

Join the mailing list
To receive ongoing reminders about Sunday Gatherings, click here to join the mailing list >>
Make A Donation
These events are offered free of charge to Shambhala members. Please consider making a donation to support the presenters and production staff that make Sunday Gatherings possible, please click here>>

REGISTRATION
Register below for each upcoming talk. A Zoom link will be sent to you after registration.
A recording will be available a few days after the event by logging in at My Programs and clicking on the program name.
Questions? Email [email protected] >>