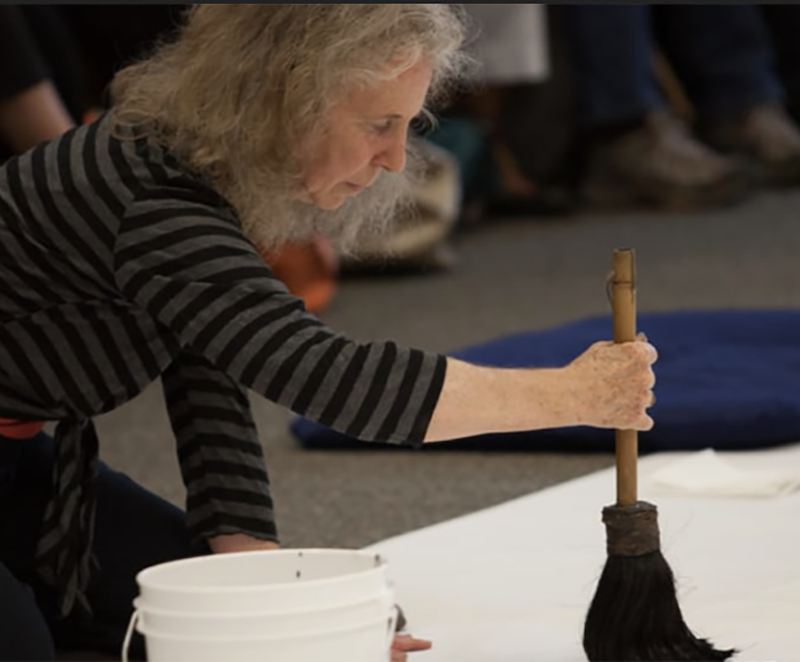 Date: Sunday, March 5, 2023 (13:00 -14:15)

Price per person: $30
1:00pm EST / 7:00pm CET
Join Herb Elsky in conversation with calligraphic artist Barbara Bash!
About the Artist
Barbara Bash is a lover of the alphabet and a calligraphic practitioner of contemplative art with brush, pen, and pencil. Her contact with Chogyam Trungpa guided her into a deeper play with the ancient principles of heaven, earth and human in the creative act. She has collaborated with musicians, storytellers and dancers in fresh forms of visual improvisation.
Barbara teaches expressive brush, contemplative handwriting and illustrated journaling. Being on the Creative Process team at the Authentic Leadership in Action conferences from 2001 - 2013 led to the creation of her big brush events. Barbara has written and illustrated a number of children's books about the natural world and most recently True Nature : An Illustrated Journal of Four Seasons in Solitude.
She lives in the Hudson Valley of New York. For more information about her work go to barbarabash.com Her True Nature visual blog is barbarabash.blogspot.com
About the 'Sacred Vision' Series
Join Herb Elsky, accomplished artist and teacher, for twice-monthly conversations with accomplished dharma practitioner-teachers on how the Dharma Arts have nourished their work and everyday life.
In the Shambhala warrior tradition, "art" is connected with a bigger, sacred vision of humanity, a way of sharing discoveries of expression that are authentic and revelatory for opening new dimensions of possibilities for people.
The 'Dharma Arts' represent some of the earliest and most profound teachings given by Chogyam Trungpa Rinpoche. Not intended merely for those who consider themselves 'artists', these teachings have enriched and nourished countless practitioners from all walks of life.
Click HERE for the full Sacred Vision Schedule!