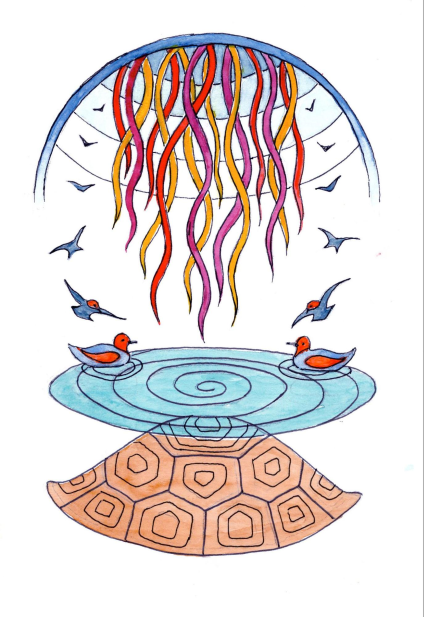 Date: Saturday, April 29, 2023 (10:00 -17:00)

Price per person: $149
Patron Price: $199
Price for Centers: $299
11:00am - 5:00pm EST
Based on a retelling of a Seneca Native American story, in this one day online workshop we will explore our own connection to myth, creativity and compassion with words, with brush, with mapping the structure of a story to reveal its radiant nature . We will be working with a story retold by the Native Peoples, the Seneca of New York State, that describes the creation of the world through an encounter with another world beyond. It is a story that is at once psychological, ecological, traditional and deeply personal. It is a bridge joining timelessness with the everyday.
About the Teachers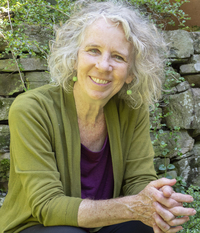 Barbara Bash is a calligraphic artist in love with the alphabet and many forms of communication. She has taught contemplative art practices in person and online widely. Over the years her mapping of stories, first at Naropa University and later at the Authentic Leadership in Action conferences brought forth fresh explorations of visual learning. For more information - barbarabash.com and barbarabash.blogspot.com

Laura Simms is an internationally acclaimed storyteller, author, and humanitarian. She performs traditional stories with personal narrative. Laura is artistic Director of the Hans Christian Andersen Storytelling Center, and served as a Senior Research Fellow for Rutgers University Peace Center under the auspices of UNESCO. In 2010 Laura saved a zoo in Romania. She won the Sesame Street SUNNY DAYS AWARD for work with children worldwide, and received the Hasbro September 11th Grant. She is a dharma art teacher, senior meditation instructor , and works with The Constellation. She recently received The Talking Leaves Award for writing on storytelling.