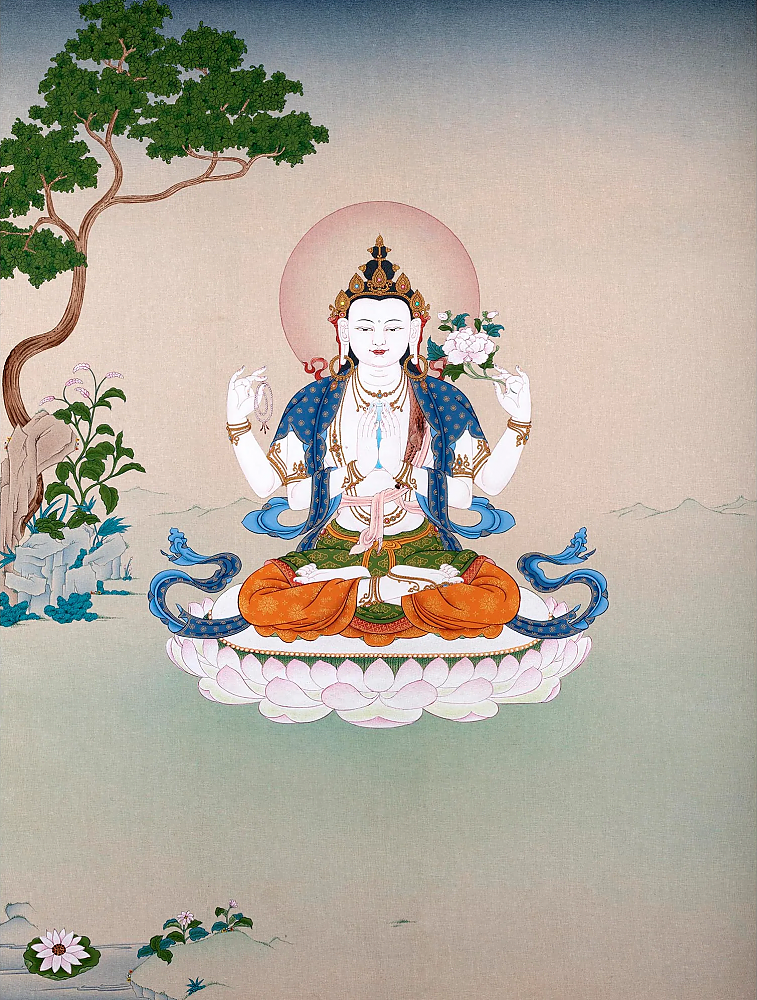 Date: Saturday, September 23, 2023 (13:30 -15:30)
Saturday, October 14, 2023 (13:30 -15:30)
Saturday, November 4, 2023 (13:30 -15:30)
Saturday, November 11, 2023 (13:30 -15:30)
Saturday, November 18, 2023 (13:30 -15:30)

Price per person: $149
Patron Price: $199
Live Sessions: Sept 23, Oct 14, Nov 4, 11 & 18 from 1:30-3:30 pm EDT
Part I is not required to participate in Part II
In times of worldwide environmental destruction, pandemics, war and social disintegration, one can easily be overcome by feelings of disconnection, helplessness, resignation and paralysis. The poem entitled The Thirty-Seven Practices of a Bodhisattva, by the 14th-century monk Ngulchu Thogme Sangpo, provides clear insights on how to work with such challenges and turn around seemingly intractable situations. It points to the skillful means that bring us the strength of heart to work with difficult circumstances while being of benefit to others.
Topics for Live Sessions:
Talk One: How not to Lose Heart in Desperate Situations
Talk Two: Working with Resentment and Anger - What to Do about Enemies
Talk Three: Sensual Pleasure and Enjoyment without Getting Addicted
Talk Four: Dream, Illusion and Reality - The Hidden Door to the Nature of Mind
Talk Five: From Poverty to Wealth - The Power of Giving and Ethics and Virtue as a Way to Inner Freedom
Each live session will include a 30-40 minute talk, and 30-45 minutes set aside for exchanges and discussions. Part of each session will also be dedicated to guided exercises and meditations. Study questions will be provided to give the opportunity to reflect on the contents of each talk.
Course Readings:
The Heart of Compassion by Dilgo Khyentse Rinpoche
Or in French: "Au coeur de la compassion," editions Padmakara 2008
Reflections on Silver River by Ken McLeod (Can also be downloaded for free)
Brave, Generous, & Undefended: Heart Teachings on the 37 Bodhisattva Practices by Barbara DuBois
Further Optional Readings:
The 37 Practices of Bodhisattva Commentary by Khenpo Tsultrim Gyamtso Rinpoche
The Heroic Heart: Awakening Unbound Compassion by Jetsunma Tenzin Palmo
Translations:
These can be downloaded for free.
Ken Mc Leod's translation on his website, Unfettered Mind:
https://unfetteredmind.org/37-practices-of-a-bodhisattva/
Khenpo Tsültrim Gyamtsos commentary:
https://dharmaebooks.org/thirty-seven-practices-bodhisattva/
The Lotsawa House translation:
www.lotsawahouse.org/tibetan-masters/gyalse-thogme-zangpo/37-practices-all-bodhisattvas
About the Teacher

Mathias Pongracz has been a student of Chogyam Trungpa Rinpoche since1983 and Sakyong Mipham Rinpoche since 1991. He was also student of Kobun Chino Roshi. He teaches primarily in Austria, Hungary, Czechia, Belgium, and France.