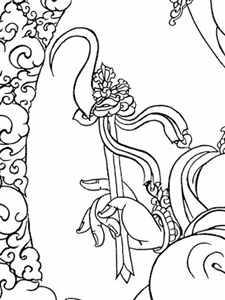 Price per person: $15
Patron Price: $25
Price for Centers: $50
Price for Groups: $40
Join Walker Blaine, Master of Liturgies to the Sakyong, in a guided practice of the Red Jambhala Sadhana.
Prerequisite: Limited to practitioners who have received the Red Jambhala empowerment and practice from Sakyong Mipham Rinpoche and have completed the practice requirements for Kurukulla or are reviewing the practice to attend practice intensive at a Shambhala Center.
The video recordings include descriptions of the core visualizations, mudras, and more. NOTE: There is no end date for your access to the course page. You may view the page and videos as often as you wish.
A "heart gift" may be offered here.
Registration
Individuals: $15.
Centers: $50, Groups: $40.
Please use your Shambhala account to register. For instructions on creating an account, see this link.
Patron. The Patron rate of $25 supports our efforts to connect teachers and learners through online programs. In particular, it helps us offer the generosity policy to those in need.
Generosity Policy. Use the Request a Discount link before you register to receive a coupon code to use at check-out.