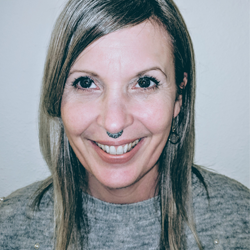 Date: Wednesday, May 15, 2019 (19:00 -20:15)

Teacher : Shastri Trinley Busby
Price per person: $10
Patron Price: $20
Price for Centers: $60
Price for Groups: $40
Shambhala Online Weekly Dharma Gathering
Dharma Gathering with Trinley Busby
Hosted by Dr. Shanté Smalls
All are welcome to join these weekly events, which include guided meditation and a talk and discussion with a featured guest teacher.
On May 15, we are grateful to have Trinley Busby present a talk, "Minimizing Harm: An Internal and External Exploration." Harm is defined as: actual or potential ill effect or danger and to have an adverse effect. Being of both an individual and a social body, we will inherently be the sender and the subject of harm many times in our lives. To deny the risk of this, we might bypass the ways in which we feel the adverse effects we have on others or the dangers we pose to them. We may also ignore or neglect the adverse effects others have on us - both of which cause damage to the individual(s) and the social body. In this online guided meditation and talk we will explore using principles of harm reduction as an orientation for our personal practice and as inquiry into how our internal experience repatterns onto social systems.
This tradition began at Shambhala New York in the early 1990s as a way to welcome the greater community into the Shambhala center. Today, many Shambhala centers around the world continue to host these events for members and friends of the Shambhala community. We hope that these events will allow us to collectively examine the issues facing our sangha and larger society by spotlighting new and fresh voices across our mandala.
The Shambhala Online Weekly Dharma Gathering series is hosted and curated by Dr. Shanté Paradigm Smalls. Dr. Smalls is a teacher in the Shambhala lineage and student of Sakyong Mipham Rinpoche. They are assistant professor of Black Culture and Literature, as well as as a performer and performance studies scholar. Dr. Smalls has published work on hip hop, film, queer performance, and a host of other scholarly topics. Connect with Shanté on social media: Facebook, Twitter, Instagram
Join live or watch later. When you register for a talk, you'll receive:
A link to view the event live

Access to view the archived video after the live event concludes

The cost is $10 for the General Public and $20 for Patrons who wish to pay-it-forward. Cost for Centers is $60, and $40 for Groups.
Because we are committed to making these programs accessible to all, there is also a 25% discount option that one can select for each talk (click on the "Request a discount" link below). To request a further discount or scholarship, write to [email protected].
To view the full schedule of Weekly Dharma Gatherings, please click here.
---
Schedule
7:00pm ET - Welcome & guided meditation
7:25pm ET - Dharma talk
7:55pm ET - Q&A with teacher
8:10pm ET - Announcements
---
About the Teacher

Trinley Busby is a teacher in the Shambhala lineage. Her volunteer and contract work, in the area of housing and poverty activism, led her to the field of frontline social service support work in Vancouver's Downtown Eastside (2006). She worked with populations experiencing homelessness who live with concurrent mental health and substance abuse challenges. Since that time, Trinley has been uniting her experiences as a meditator with her work as an activist.