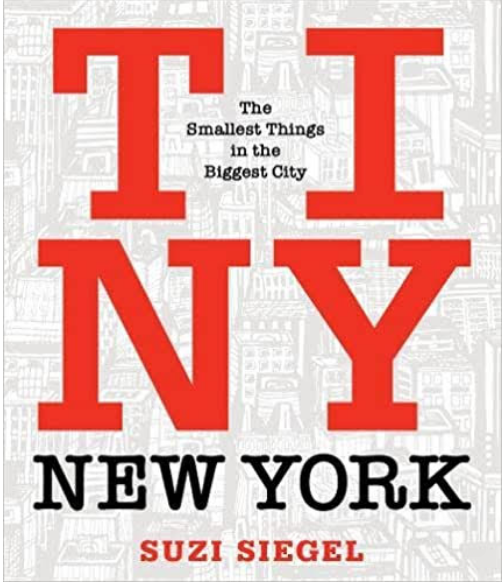 Date: Sunday, October 18, 2020

Teacher : Suzi Siegel
Price per person: $5
Patron Price: $10
Price for Centers: $20
Price for Groups: $15
Welcome to this initiative offered by Shambhala Online!
The Shambhala Online Book of the Month is an opportunity to learn about the recently published books from our many wonderful Shambhala authors and get to know them a little!
Each author will present the book's main teaching and share what inspired them to write about it. Their presentation will be followed by a Q&A where you will be able to engage them and explore their past, current and future offerings.
......................................................................................
Featured Book for October

Tiny New York: The Smallest Things in the Biggest City
by Suzi Siegel
Tiny New York peeks into the city's nooks and crannies to find the little things that tell the real New York story. Because in New York, Tiny isn't cute. It's tough. Tiny doesn't wait for handouts. It hustles. Tiny isn't insignificant. It's precise. Tiny isn't a jack-of-all-trades. It's the master of one.
There are plenty of books about New York City. But there has never been a book about the smallest things in the biggest city.
About the Author
Suzi Siegel, who is little, grew up in a little apartment in the Bronx. She is a former investigative reporter and travel writer. Thus, she is uniquely qualified to write a book full of words about the tiny things in New York City that might have otherwise gone unnoticed. Siegel has worked as a crime reporter in Detroit, an assistant to Sean "Diddy" Combs, and a travel writer for Marie Claire magazine. Siegel lives in Jackson Heights, Queens, one of the city's most diverse neighborhoods. She is a longtime meditator and member of the Shambhala community and even included a quote from Chögyam Trungpa in her book.
Join live or watch later!
The live session is scheduled for Sunday, October 18 at the following times:
11:00am (Pacific) / 12:00pm (Mountain) / 1:00pm (Central) / 2:00pm (Eastern) / 3:00pm (Atlantic) / 19:00 (UK) / 20:00 (Central Europe)
Fee: $5 Individual / Patron $10 / Center $20 / Group $15
Please register (log in below) so we can send you:
- A link to participate in the live event
- Access to view the archived video after the live event concludes
Questions? Write to [email protected].
To view the full schedule of our Shambhala Online Book of the Month offerings, or to view past recordings, please click here.