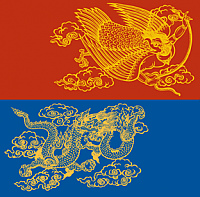 Date: Saturday, March 25, 2023 (11:00 -19:15)
Saturday, April 8, 2023 (11:00 -19:15)

Price per person: $149
Patron Price: $216
Price for Centers: $599
Price for Groups: $399
Saturday, March 25 & Saturday, April 8, 2023
11:00am - 7:15pm Eastern Time
About This Course:
Discover (or rediscover!) the Shambhala Path and come to Warriors Assembly in 2023! The Sacred Path is a series of workshops and teachings where you can deepen your meditation practice, connect with your heart and others, and learn how to meet the challenges of daily life with compassion and bravery.
Shambhala Online is offering the entire Sacred Path series of retreats up to the "Golden Key" retreat in 2022 and 2023. Take each workshop for the first time or retake the Sacred Path and renew your connection to these timely teachings!
Required Text: 'The Dignities of Shambhala Sourcebook'
Please be sure to purchase the required text at the link above prior to the beginning of the course.
Outrageous, March 25, 2023 and Inscrutable, April 8, 2023
These fruitional dignities refer to the extraordinary skill of a practiced warrior. No longer afraid of making mistakes, the unconventional and visionary perspective of the outrageous warrior combines with the skill of spontaneous inscrutability to create benefit for others on a large scale.
If you have taken the Sacred Path courses in the past, whether last year or decades ago, why not take the time to refresh your understanding by immersing yourself in these precious teachings that are core to who we are as a community and hear some of our most senior teachers speak to these teachings and our paths as peaceful warriors and meditators.
About the Sacred Path Series:
The Sacred Path is a series of teachings for those who've completed Shambhala Training Levels I-V. It introduces further practices to develop warriorship and extend the student's training in meditation. These practices are based on a societal vision and aspiration to help the world. This training cultivates one's dignity and natural gifts in order to widen one's sphere of compassionate and practical influence.
During a series of visionary experiences that took place between 1976 and 1980, Chögyam Trungpa, Rinpoche wrote down what became known as the Shambhala terma, a series of texts. The Sacred Path of the Warrior is based on these texts and on the extensive commentaries Chögyam Trungpa Rinpoche gave on these teachings and on how to practice them in modern times.
What to expect:
– Daily talks by the Senior Teacher
– Guided meditation sessions
– A lot of meditation practice
– Time to gather and converse
– Opportunity to meet with a meditation instructor
– Specially produced cinematography for each weekend
– Additional free talks by senior teachers between each intensive
– Additional opportunities to gather virtually as a community between each course
Regsitration & Pricing
**If registering as a Centre/Group, please register here

No one will be turned away due to financial considerations. That being said, the pricing below allows us to pay for the production of these programs, which is more robust than you might imagine. Shambhala forms in a unique virtual environment. With that in mind, we've tried to create a pricing structure that is not cost-prohibitive, but makes it possible for anyone to attend.
Individuals

1. If you are a member of a Shambhala Centre or Group:
Check with a centre or group leader in your local community to see if they are offering the online Sacred Path, and how you can register with them directly.

2. If you are a solo practitioner or if your Centre or Group is not offering this Shambhala Online series: Not to worry. You are fully held within this unique meditation practice space. You can register as an individual and get the full experience. In fact, we are building these retreats especially for you. A space to practice, listen, share, and explore your world through the eyes of meditation.

Individual Pricing
$149 per Level – helping Shambhala thrive price
$216 per Level – scholarship sponsor price – this directly sponsors a meditator in need
$79 scholarship price per Level – we use sponsor money to fund these retreatants' registration
Purchase Required Materials from Kalapa Media separately: 'The Dignities of Shambhala Sourcebook'

Further Scholarship – apply here for a further break on the program price.
Centre/Group Pricing and Affiliate Program

If registering as a Centre/Group, please register here

Centre – all 5 Retreats – $2000
Centre – single Retreat- $499
Group – all 5 Retreats – $1500
Group – single Retreat – $350
**Centres or groups – we hope that this pricing represents a real value for you and your members. Centres and groups that need a break on this pricing, please don't hesitate to reach out to Andy at Registrar@shambhalaonline.org to discuss your needs. We will find the pricing structure that works best for you, even if it means thinking outside the box. It is important that you and your members are able to participate fully and without worry in these times.
Affiliate Opportunities for Centres and Groups
If your Center/Group does not want to register with Shambhala Online, you can still capture revenue by becoming an Affiliate. This option is recommended for small Centers with a limited number of potential participants. Affiliates will receive 20% of the program price paid by each participant who registers via your Center's registration links.
Contact Andy at [email protected] with any additional questions about being an affiliate.
The Sacred Path courses will be translated to a variety of languages. Please reach out to [email protected] if you need interpretation, so we can make arrangements.