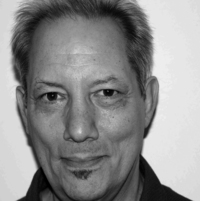 Date: Sunday, April 2, 2023 (13:00 -14:15)

Price per person: $30.00
1pm Eastern/7pm CET
Join Herb Elsky in conversation with acclaimed writer, director, teacher and performer Steve Clorfeine!
About the Artist
You can learn more about Steve by visiting his website at http://www.steveclorfeine.com/
Steve has been teaching, performing, and writing since 1974. He is one of the founding arts faculty at Naropa University in Colorado where he also directed the summer dance/theater program and the year round theater department for several years. He's taught at SUNY New Paltz in various departments including SUNY's prison education projects.
Steve directs Shambhala Training, Buddhist Studies, and Dharma Art
courses. He was the International Director of Shambhala Art, the co-founder
of Sky Lake meditation center in NY and has taught at Shambhala Centers in the
U.S. and Europe.
Steve's performance work has been commissioned by venues in the U.S.,
Europe and Asia, where he continues to offer theater/improvisation workshops.
He's taught at the Amsterdam Theater School, at the Remscheid Academy (Germany), Movement Therapy School (Switzerland) and high schools throughout Germany.
After co-directing Naropa University's Study Abroad Program in Nepal, Steve began teaching theater in Nepal, India and Singapore and received Cultural Envoy grants from the U.S. for extended performance work in Calcutta and in Kathmandu.
Steve has collaborated with theater partner Lanny Harrison, producing
scores of performances including their original Sense and Nonsense and
Nomadic Events as well as Samuel Beckett's Act Without Words II and Robert
Anderson's 'I'm Herbert'.
He has collaborated with the arts team of the Shambhala Institute (later A.L.I.A.), with musicians Steve Gorn, Jerry Granelli; with jazz singer Jay Clayton, tap jazz legend Brenda Bufalino, and dancers Wendell Beavers, Nancy Stark Smith and Barbara Dilley. For 10 years, Steve was a member of Meredith Monk's company and concurrently a member of Ping
Chong's Fiji company, performing throughout Europe and the U.S.
Steve is the recipient of a NYFA fellowship, an OBIE award, Poets and Writers grants and a film award from the Atlanta Festival for the Arts. His non-fiction book on Nepal, In The Valley of the Gods, was published by Station Hill Press (2000) and 6 poetry collections published (1994-2023). He co-directed the documentary film Voices of the New Belarus (newvoicesbelarus.org) which premiered in summer, 2022 at the Hong Kong festival, Art on the Edge: Fear Not.
---
About the 'Sacred Vision' Series
Join Herb Elsky, accomplished artist and teacher, for twice-monthly conversations with accomplished dharma practitioner-teachers on how the Dharma Arts have nourished their work and everyday life.
In the Shambhala warrior tradition, "art" is connected with a bigger, sacred vision of humanity, a way of sharing discoveries of expression that are authentic and revelatory for opening new dimensions of possibilities for people.
The 'Dharma Arts' represent some of the earliest and most profound teachings given by Chogyam Trungpa Rinpoche. Not intended merely for those who consider themselves 'artists', these teachings have enriched and nourished countless practitioners from all walks of life.