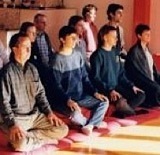 Date: Sunday, December 4, 2011

Teachers : Acharya Dan Hessey & Holly Gayley
Price per person: $15.00
Are you thinking about taking a week or month to do an intensive meditation retreat? Shastris Dan Hessey and Holly Gayley discuss the benefits of group retreat practice, what to expect and how to prepare for retreat in this three-class series. This series of classes will be especially helpful to anyone interested in attending part or all of the winter dathun with Dan and Holly from December 10th to January 7th at Shambhala Mountain Center.

Talk 1: The Virtue of Simplicity

In the first talk of the winter dathun series, Dan and Holly discuss why we take time out of the business of our lives to meditate in general--and especially to do a one-month meditation retreat like dathun. What do we gain by simplifying our schedule and taking a break from the speed and entertainment of daily life? Dan and Holly give an overview of dathun, explaining how it deepens our experience of meditation and helps us access our own inner resources, vitality and strength.

Talk Two - Settling into Our Own Being
In the second talk of the winter dathun series, Dan and Holly delve further into the effects of meditation in a retreat setting. How does the mind, which is so easily distracted in our day-to-day activities, settle over the course of a month-long meditation retreat? What kind of transformative takes place as a result? Dan and Holly describe how intensive meditation practice allows our innate qualities to blossom--the mental clarity, creativity and personal radiance that each of us has already. We discuss the culture of dathun and how it offers a rare opportunity for mentorship and support along our meditative journey.


Talk Three - Bravery & Leaving Home

In the third and final talk of the winter dathun series, Dan and Holly discuss how to prepare ourselves for dathun. Prior to retreat, all of us have feelings of anticipation. What does it mean to live each day being fully alive and present in the context of a group retreat? What will it be like to meet ourselves and others in a new way? Dan and Holly talk about the bravery of leaving home and the rhythm of daily life at dathun. Please bring any questions about what to pack and what to leave behind.
SUGGESTED FEE: $15 includes access to all three talks - live or by recording. A generosity policy applies ~ you may pay less if necessary, or more if inspired to support Shambhala Online activities.
Please note: recordings are made over the internet. Their quality cannot be guaranteed.